Jackie Thomas: From intermodal driver to brokerage operations manager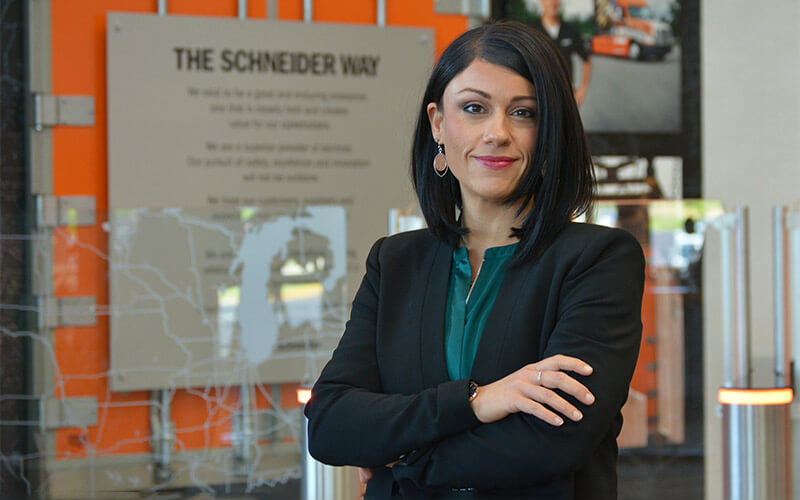 Estimated reading time: 3 minutes
Jackie Thomas never anticipated being in the transportation industry, as she had a passion for the arts and intended to become a photojournalist. However, her life took a few unexpected turns, and that path led her to trucking.
Jackie started as a team truck driver in 2007 and soon realized she had found the industry she had a true passion for. Jackie stayed on a road that eventually led her to Schneider – a move that has taken her career further than she ever imagined.  
Looking for a better driving opportunity, Jackie joined Schneider as an Intermodal driver in 2016
"I wanted to be more than just a number like I'd been at previous companies," Jackie said. "I'd heard from other drivers who had good experiences at Schneider, and I decided to apply."
Helping new drivers learn the ropes
After driving in her new role for a short time, Jackie's supervisor recognized Jackie's leadership skills and offered her the opportunity to become a Training Engineer. This move allowed her to travel to facilities in other areas of the country to help train drivers.
Less than a year later, Jackie received a promotion to Driver Team Leader (DTL), a role that took her out of the truck and inside the office.   
"I had a DTL and mentor, Scott Dohman, who saw more potential for me," Jackie said. "He presented me with opportunities that challenged me to do more and expand my skill set and is one of the biggest reasons I'm here today."  
As a DTL, Jackie led drivers in the St. Louis, St. Paul and Denver intermodal markets. She also added planning, dispatching and handling support shift duties to her task list during that time.
Jackie was working as a DTL for only three months when she was recognized for her contributions and given the opportunity to expand her role and start training other DTLs.
Taking on new challenges in a new town
In March 2020, Jackie moved to Green Bay, Wis., to take on her next career challenge as a Senior Planner – a role where she was responsible for matching drivers to freight. Schneider has a solid history of giving associates a strong career path. As roles become available, the company looks to its people first.  
"Moving to Green Bay was a big change – especially because I moved right as everything shut down due to the pandemic," Jackie said. "I was learning a new role while working remotely, which presented its own challenges, but I made it, thanks to the great support system within Schneider."   
Jackie took to her new role quickly. In just over a year, she was asked to cover as a Market Manager and then as a Customer Service Team Lead. Her experience as a driver and trainer helped her bring unique value to these positions.  
In April of 2022, Jackie was given an opportunity to bring her diverse experience to another role, bridging a gap within the third-party team as the Brokerage Operations Manager for Intermodal.
In this role, Jackie leads a team of 14 associates who work to build relationships with third-party carriers that move Schneider freight. Jackie's team delivers a mission-critical service, covering ever-increasing capacity needs to keep customers' freight moving.
Her journey to becoming a leader
Like many Schneider leaders, Jackie's story is one of perseverance and a willingness to take on new roles as they were offered.   
Jackie knows being a leader is not about being perfect or always having the right answer. It's about learning from others and empowering the team to do their best and continuously improve.
Her biggest piece of advice to others? Don't be afraid to take chances.  
"When opportunities come around, don't let fear hold you back," Jackie said. "Before Schneider, I made a lot of decisions based on fear of failure or not feeling smart enough. Once I started saying yes to opportunities, I started seeing my own potential."
See how Schneider promotes career advancement
When it comes to career growth, Schneider puts you in the driver's seat. Read more blogs about the associates who work at Schneider and their paths to success.
About the author

Schneider Guy loves the "Big Orange." He's passionate about the trucking industry and connecting people to rewarding careers within it. He's been the eyes and ears of our company since our founding in 1935, and he's excited to interact with prospective and current Schneider associates through "A Slice of Orange."