How Schneider continues to empower women in transportation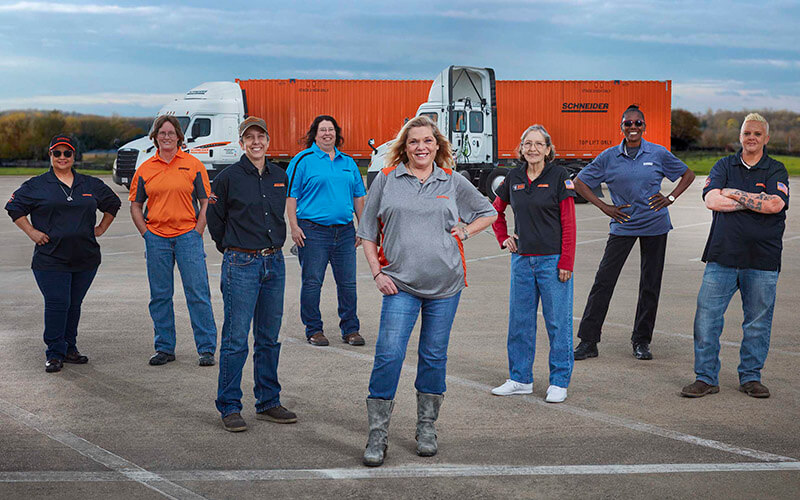 Estimated reading time: 5 minutes
More and more women are growing their careers in the transportation industry every year. Schneider is proud to represent this upward trend, with women making up upwards of 12% of company drivers and 41% of leadership roles across the business.
This year, Forbes named Schneider one of America's Best Employers for Women, an award given to employers who lead the way in supporting women inside and outside their workforces. Schneider was also named a Top Company for Women to Work for in Transportation by Redefining the Road.
In light of this award, we're looking back at some of the top milestones for women at Schneider and recognizing some of the women who are leading the way forward.
Major milestones for women at Schneider
1. Creating the Schneider Women's Network.
The Schneider Women's Network was founded in 2007. The resource group is designed to inspire women within the organization and enrich the career of female associates.
Schneider became one of the first transportation companies across the country and one of the first businesses in Green Bay to form a women's network.

2. Becoming a Women in Trucking member.
Schneider became a charter member of the Women in Trucking Association in 2007. WIT is a non-profit organization that paves the way for women in a traditionally male-dominated industry.
As one of the first companies to join WIT as a corporate member, Schneider works closely with the non-profit to develop initiatives aimed at attracting and retaining female workers.

3. Naming our first featured female drivers.
Lisa Phillips and Patrice Cook hold the title as Schneider's very first Featured Female Truck Drivers. The pair served together in the U.S. Army's transportation division. After they finished active duty, the "battle buddies" put their military experience and chemistry to good use as Schneider team drivers.
Patrice was also named Schneider's first female Ride of Pride driver in 2022.
From Iraq to Pittsburgh and everywhere in between, the two take on whatever road lies ahead.

4. Developing the Schneider Intermodal Women's Outreach Program.
The Schneider Intermodal Women's Outreach Program connects female drivers with the resources they need to go out into their communities and encourages women to consider a career behind the wheel.
Schneider intermodal driver Christine Bosgraaf started the program in 2019. Her goal is to get more women to join the trucking industry.
"The public doesn't realize women can do this job," Christine said. "We want to spread the word that it is an option for women who don't want to sit in an office – to let them know women are already out here doing a good job."

5. Unveiling Schneider's WITney truck.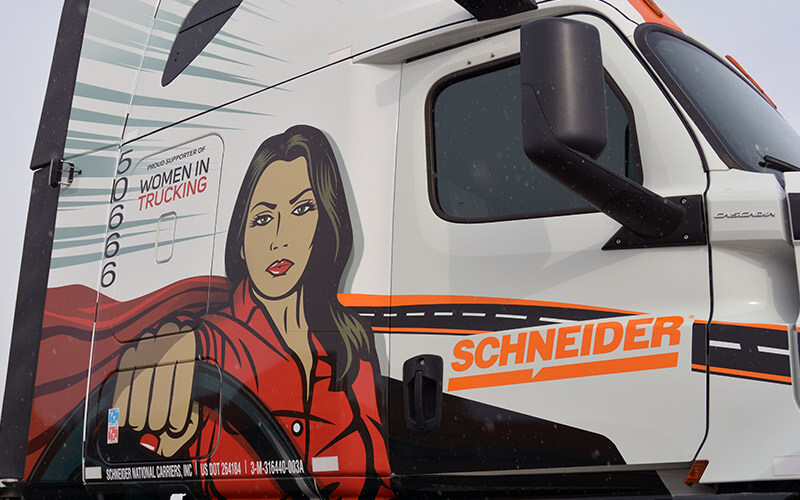 Schneider unveiled its WITney-wrapped truck in 2022 to encourage women to consider a career in trucking. The design, adapted from Women in Trucking's Driver Ambassador Trailer, shows a female truck driver wearing a cape. The wrap calls on women to "take the wheel" by becoming a truck driver.

Schneider driver Kayleigh McCall was recently selected as the newest WIT Driver Ambassador.
More women who move Schneider forward
Nan Cunningham: Schneider's longest-tenured female driver.
With more than 30 years under her belt as a Schneider driver, Nan Cunningham holds the title as Schneider's longest-tenured female driver. Nan is an is an intermodal driver with over three million safe miles driven.
"When I first started, I was not the norm," Nan said. "Less than 5% of drivers were females, and a lot were running teams with their husbands. I was the novelty. People would line up along the docks to watch me back in to see how I was doing. It was a little nerve-wracking."
Every time Nan gets behind the wheel of her company truck, she continues to set records for our female company drivers.

Kat Burt: Representing her heritage through trucking.
Kotanee "Kat" Burt is a proud member of the Menominee nation who started her career on Schneider's customer service team seven years ago. Today, Kat works in the Global branch of the department, where she handles creating and tracking orders, anticipating problems and providing creative solutions for one of our major retail clients.
"I think it is hard to escape stereotypes," Kat said. "It can be difficult to be a part of such a small racial/ethnic group because we are often overlooked, but that just inspires me to become more than just myself. It inspires me to be an active member of my community and a voice of representation."

Jackie Thomas: The road to becoming a freight broker.
Jackie joined Schneider as an intermodal driver in 2016. She quickly rose through the ranks to become a brokerage operations manager in Schneider's intermodal department, where she leads a team of 14 associates who work to build relationships with third-party carriers that move Schneider freight.
Trucking wasn't always the road Jackie wanted to take, however. With a passion for the arts, she wanted to become a photojournalist, but her life took a few unexpected turns. This led her to the transportation industry.
"When opportunities come around, don't let fear hold you back," Jackie said. "Before Schneider, I made a lot of decisions based on fear of failure or not feeling smart enough. Once I started saying yes to opportunities, I started seeing my own potential."

Erin Van Zeeland: Leading the way for women.
Erin Van Zeeland, Schneider's chief commercial officer and group senior vice president and general manager of logistics, was named a recipient of Supply & Demand Chain Executive's first-ever Women in Supply Chain Award in 2020.
The award honors female supply chain leaders and executives whose accomplishments, mentorship and examples set a foundation for women in all levels of a company's supply chain network.
Erin was presented the award based on her contributions to many technological advancements at Schneider. Her vision and understanding of data science helped spearhead many projects, including the launch of Schneider FreightPower®.

Carmen Cucinello: A woman to watch in transportation.
Shortly after being promoted to vice president of Bulk Operations, Carmen Cucinello was named one of Women in Trucking's Top Women in Transportation to Watch for 2021.
Carmen was selected for the award based on her significant career accomplishments in 2020, as well as her efforts to promote gender diversity. She received several Schneider awards for her leadership and industry experience before being recognized by Women in Trucking.
Today, Carmen continues to serve Schneider associates both in her role and as a mentor.

Considering a career in transportation?
See why women chose Schneider and learn more about what we have to offer.
About the author

Schneider Guy loves the "Big Orange." He's passionate about the trucking industry and connecting people to rewarding careers within it. He's been the eyes and ears of our company since our founding in 1935, and he's excited to interact with prospective and current Schneider associates through "A Slice of Orange."
More posts by this author