Top 8 jobs for accounting majors to pursue after graduation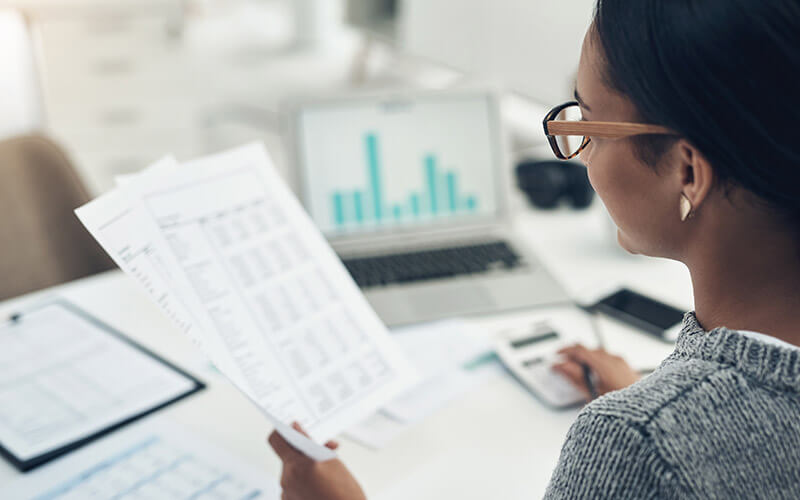 Estimated reading time: 5 minutes
If you're good with numbers and passionate about money management, a degree in finance and accounting is the obvious choice for a fulfilling career.
Whether you're considering a major in accounting or are nearing graduation and considering your next steps, you may be wondering what types of entry-level roles are available with your degree.
This list will cover some of the best jobs for accounting majors to pursue after college, including an overview of the day-to-day job duties and what qualities would make you a good fit for each role.
Why pursue a degree in accounting?
Aside from an aptitude for math, there are a number of reasons to pursue a degree in accounting:
The demand for accountants is stable and growing. According to the U.S. Bureau of Labor Statistics, the employment of accountants and auditors is expected to increase 7% from 2020 to 2030. About 135,000 job openings in the field are projected each year.
You'll enjoy a competitive pay range. The BLS reports that the median annual salary for accountants and auditors was $73,560 in 2020. Those who worked in the management of companies and enterprises earned a median salary of $76,230.
There are countless career opportunities. Accountants have a variety of specialized positions they can pursue with the right combination of education and on-the-job experience. Plus, you'll pick up some valuable business knowledge that will come in handy if you have dreams of rising to a top-level business role or want to start your own business.
Top 8 jobs you can get with an accounting degree
1. Tax accountant.
A tax accountant assists with filing tax return documents for individuals and/or businesses. Some work as agents in dedicated tax preparation companies, but many larger companies – like Schneider – also employ their own internal team of tax accountants that handle the business' broad range of tax accounting needs.
These tax accountants gather financial data and prepare monthly, quarterly and annual tax returns for the company. They are also tasked with researching and implementing tax planning strategies that make use of tax credits and deductions.
A career in tax accounting requires a thorough understanding of tax laws and regulations at the federal, state and local level. For a larger company, things can become complicated fast, so someone with an aptitude for problem-solving might find a fulfilling career in one of these roles.
2. Corporate accountant.

A corporate accountant is responsible for analysis and reporting on a broad spectrum of accounting disciplines with a focus on company-wide results.
They prepare journal entries, complete reconciliations and address other matters related to enterprise financial accounting. Corporate accountants also perform accounting research and monitor recently issued accounting guidance in order to advise and assist the business in accounting for new and unique transactions. Schneider became a public company in 2017, so a section of the department focuses specifically on external reporting.
Detail-oriented individuals interested in technical accounting may find a satisfying career as a corporate accountant. Good communications skills will also help you in this role. At Schneider, our corporate accountants regularly interact with external auditors, operations and individuals from many other departments throughout the enterprise.
3. Financial systems analyst.
The financial systems analyst role is similar to that of a corporate accountant but is more involved with accounting systems. Financial systems analysts test and launch new accounting software, as well as troubleshoot technical issues that occur in the business' existing systems.
At Schneider, our financial systems analysts work through daily, month and quarterly transactions flowing into the general ledger from the subledgers (AR, AP, Payroll) and the integration of multiple financial systems into one source system for general ledger. They also maintain the company's chart of accounts and handle month-end close responsibilities such as journal entries and account reconciliations.
Since this role involves working closely with software, good computer skills and a working knowledge of automated financial systems will be important. A keen attention to detail will also be critical in fulfilling both accounting and technical duties.
4. Credit specialist.
In general, credit specialists analyze clients' financial histories to determine whether they qualify for loans or lines of credit. Banks are often the first to come to mind, but opportunities in this area stretch far beyond financial institutions.
Corporate credit specialists work to protect a company's assets by identifying the risk of delinquencies and bad debt write-offs. They investigate potential, new and existing customer accounts through various sources of financial data to determine the appropriate level of credit to be extended.
The role often involves approaching sensitive interactions and negotiating positive outcomes. Strong communication and management skills will be important both in collaborating with internal departments and working with customers.
5. Internal auditor.
A company puts certain processes in place to ensure their financial statements are accurate and mitigate the risk of fraud. An internal auditor assesses risks and how the organization manages risks, reviews and tests existing controls to provide suggestions for improvements and assists with implementing new controls as necessary.
Internal auditors also perform operational audits to determine whether improvements can be made to the company's operating activities and advise management of their findings. They get to observe how things work in different departments, making this an attractive role for someone who wants a good overview of the entire business.
There's this term we have in accounting – professional skepticism – that's used to describe people who don't take things at face value. It's the key trait of any successful auditor. Individuals who like to investigate and dig into things further will likely find a fulfilling career in this role.
6. Accounts payable representative.
Depending on the size of the operation, a single business could see hundreds to thousands of invoices each month. An accounts payable representative is responsible for making sure these payments are processed accurately, efficiently and on time.
Accounts payable representatives help process payments for various departments while also providing support for any payment issues that might occur. That includes analyzing reports to determine the cause of payment errors and taking corrective action to address the issue.
Much of an accounts payable representative's work involves recording important data and checking for accuracy. Meticulous attention to detail and strong analytical skills are fundamental to the role.
7. Accounts receivable representative.
On the flip side, an accounts receivable representative handles incoming payments to the business from its customers.
Their work involves identifying the root cause of any billing problems and working with the customer to get overdue and future invoices paid promptly. In some cases, they may need to examine past transactions to resolve a dispute.
Accounts receivable representatives work with customers on what can sometimes be tense matters with the goal of maintaining relationships and reaching a positive outcome. As such, strong customer service skills and a problem-solving skillset are great qualities for an individual in this role to have.
8. Financial analyst.
A financial analyst – not to be confused with a financial systems analyst – provides analysis on a broad spectrum of financial issues and contributes to the annual planning and budgeting process.
Someone in this role would handle many of the day-to-day collaborations with operations, record journal entries for results, and analyze business trends. At Schneider, our financial analysts also provide specialized support to certain key areas of business, some of which include customer service, sales, risk management, and field operations.
Individuals who are detail-oriented and good with in-depth analysis will likely be well suited in a financial analyst role. An interest in driving operational results would also be a plus for someone in this area of finance.

Looking to start a career in accounting?
Schneider is looking for motivated accountants to join our team. Check our Finance & Accounting careers page to learn more about the department and available career opportunities.
About the author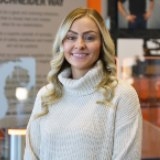 Emily is an Accounting Manager in Schneider's corporate accounting department in Green Bay, Wis. She started her career at Schneider in 2017, taking on senior accountant roles in both corporate accounting and Securities and Exchange Commission (SEC) reporting before the two departments merged into one. When she's not guiding Schneider's corporate accounting efforts, Emily enjoys traveling, hiking and reading.
More posts by this author