17 best stretches for truck drivers to do each day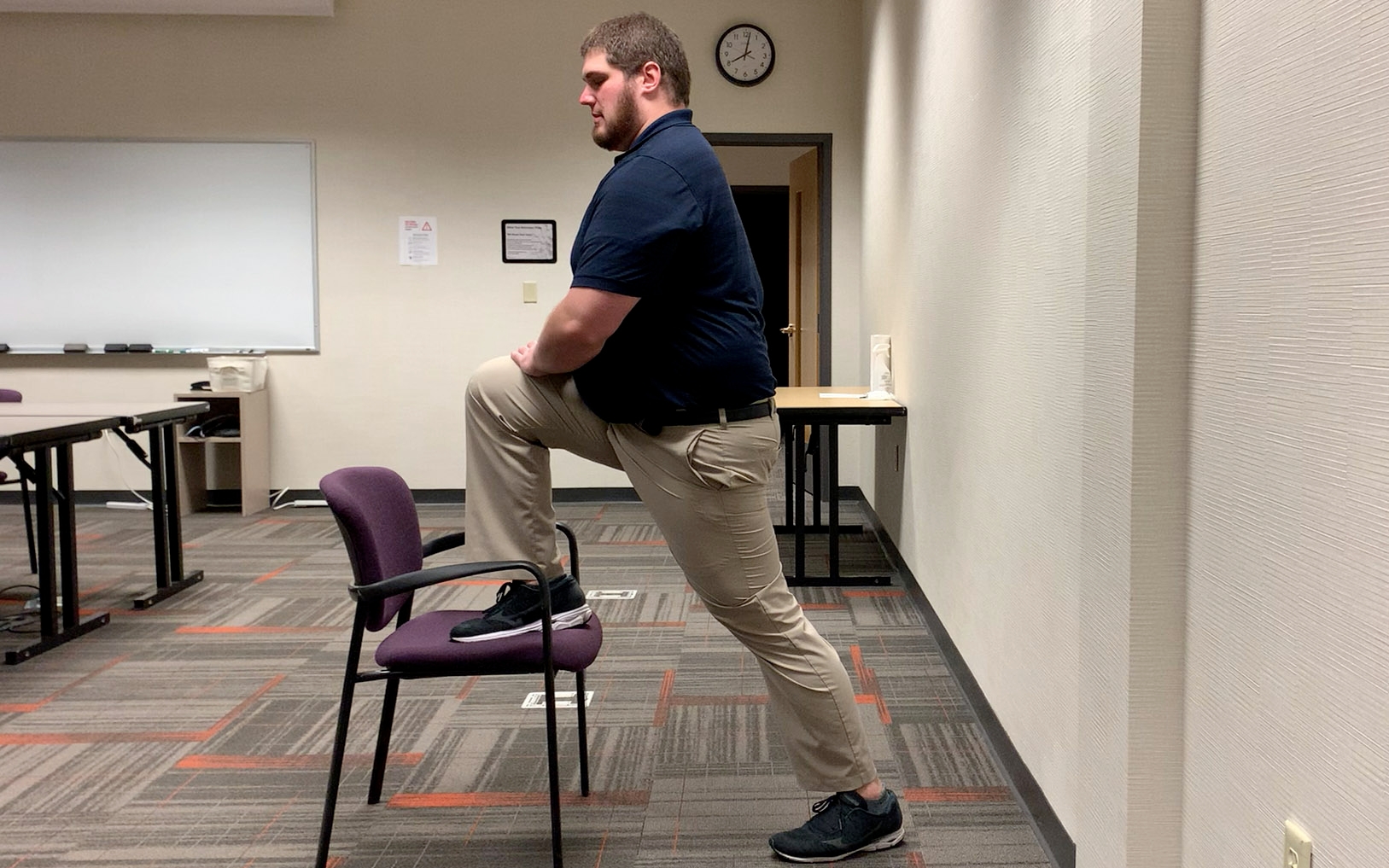 Sitting for long periods of time can cause your muscles and joints to become shortened, tightened and stiff. Truck drivers can sit for up to 11 hours per day, so it's common for them to experience things like back pain and neck pain.
Continue reading for some of the top stretches for truck drivers or watch the below video of physical therapist Caleb Vizina demonstrating and explaining each stretch.
17 stretches for truck drivers
These stretches can be done before you start driving, during quick breaks and once you've hung up your keys for the day. You can even incorporate these stretching techniques for drivers stretches into your workout routine.
Attempt to hold each stretch for five seconds. Do five reps at a time for a total of 25 seconds. Repeat this as many times per day that you can.
It is recommended to consult a physician before starting a new stretching routine or if you feel extreme discomfort.
4 leg stretches
1. Toe raises – Start with both feet flat on the ground. Push your weight forward so you're standing on your tip toes. Hold and release your heels back to the ground.
2. Hamstring stretch – Keep one foot flat on the ground and place your heel on the step of the outside of your truck, so your legs form a 90-degree angle. Lean your weight forward. Hold and release your foot back to the ground.
3. Calf stretch – Plant both feet flat on the ground, but stagger one foot about 1-2 feet behind the front one. Hold onto the outside door of your truck and lean your weight forward so your front knee is bent. Hold and stand back up straight.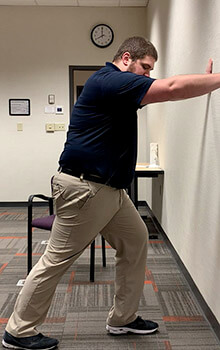 4. Thigh stretch – Plant one foot on the ground, keeping your leg straight. With the other leg, bend at the knee and kick your foot up near your butt. Hold your foot with the opposite hand near your butt while also holding on to the outside door of your truck to secure yourself. Hold and release your foot.
2 back stretches
5. Back extension – Stand straight up with your feet at shoulder-width and place each of your hands on your lower back with elbows sticking out. Slowly lean back. Hold and return to standing up straight.
6. Knees to chest stretch – Plant one foot on the ground and the other on the outside step of your truck. The leg with the foot that is planted on the step should form a 90-degree angle. Learn weight forward into knee. Hold and release.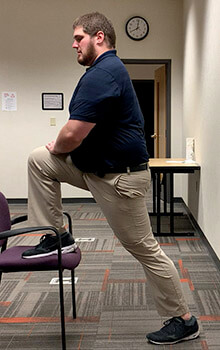 4 shoulder stretches
7. Swimmer's stretch – Grasp both your hands behind your back and extend both arms. Hold and release.
8. Stretch across – Take one arm across the front of your body and place your hand on the top of your back. Situate your free hand on your elbow and slightly push the arm back. Hold and drop both arms.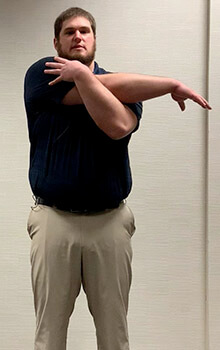 9. Butterfly stretch – Place both hands on the back of your head, with your elbows pointing out. Push your elbows back as far as you can. Hold and release.
10. Reach for the sky – Stand straight up and put both hands in the air. Reach up as far as you far. Hold and drop both arms.
2 neck stretches
11. Chin tuck – Stand straight up with your head held high. Tuck your chin into your neck and raise the back of your head. Hold and release your head to a comfortable position.
12. Upper trap stretch – Tilt head toward your shoulder and use your hand to provide light overpressure. Hold and bring head back to center.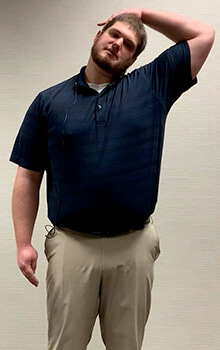 1 elbow stretch
13. Triceps stretch – Bring arm overhead and grasp elbow with opposite arm. Bend elbow to reach down to the middle of your back.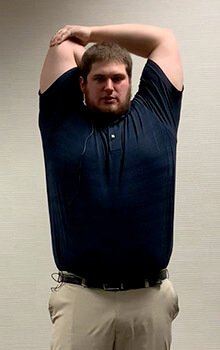 4 hand stretches
14. Open/closed fist – Start with a closed, clenched fist. Open your hand with your fingers spread out wide. Repeat.
15. Thumb stretch – Start with all five fingers spread wide. Bring your thumb inward and touch the bottom of your pinkie finger. Repeat.
16. Wrist flexion/extension – Stretch one arm out in front of you. Flip your arm so your wrist is pointing up and use your other hand to gently bend your fingers back. Hold, rotate so your fingers are pointing up and hold again. Repeat.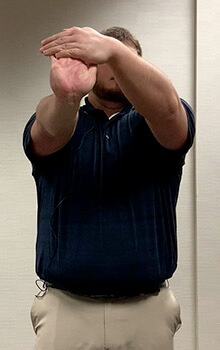 17. Prayer stretch
– Place your palms together at the center of your body. Lower your hands until a stretch is felt in your hands and forearms. Hold and repeat.
Become a healthier, happier truck driver.
End 2020 on a high note and start 2021 off right by improving your overall health and wellness. Check out all our health-related blogs and begin implementing simple changes into your everyday routine.
About the author

Schneider Guy loves the "Big Orange." He's passionate about the trucking industry and connecting people to rewarding careers within it. He's been the eyes and ears of our company since our founding in 1935, and he's excited to interact with prospective and current Schneider associates through "A Slice of Orange."