How to stay healthy as a truck driver: 10 key tips to follow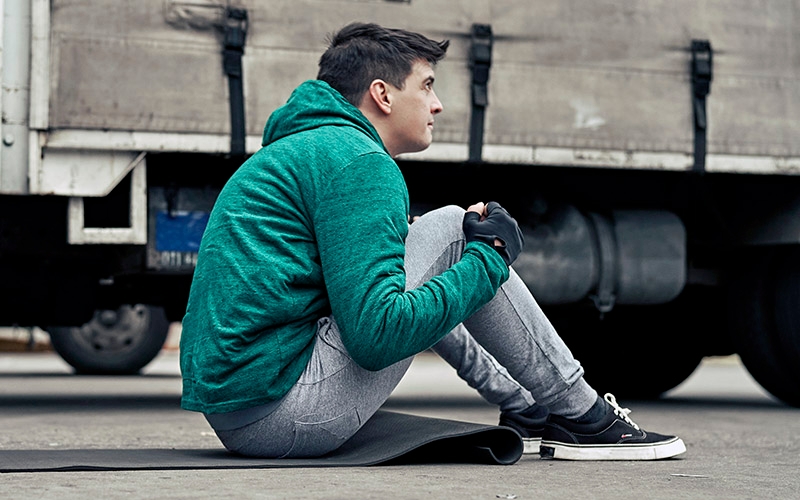 Estimated reading time: 3 minutes
Being a truck driver can create a demanding lifestyle, with constant travel, a cramped living space, long periods away from home and being seated most of the day. This creates unique challenges when trying to figure out how to be healthy as a truck driver.
Though it may seem difficult for truck drivers to stay in shape, making some simple changes to your day-to-day routine can have a huge impact. Follow these 10 tips on how to stay healthy as a truck driver to get started.
H

ow to

stay healthy as a truck driver
1.

Get enough sleep.
Getting good rest is essential to truck driver health, as it allows your body to rest and repair. Sleep deficiency affects our ability to focus, especially while operating a vehicle.
To get great sleep on the road:
F

ollow a

consistent

sleep

schedule.
Try to go to sleep and get up at the same time each day.
2. Drink a lot of water.
Being hydrated is critical to maintaining your health. Switching from drinks like soda (even diet soda) to water can help you:
Maintain your

body's temperature

.

Improve your

kidney and heart health

.

Stay energized and in a good mood.

Reduce fatigue.
It's recommended women drink 11.5 cups of water and men drink 15.5 cups of water daily. To make staying hydrated more convenient:
Keep a

water

jug or Brita in your truck that you can refill at

truck stop

s

,

Invest in an insulated water bottle,

Or,

keep a case of water bottles in your truck.
You can bring a reusable bottle to work or leave one at your desk to ensure you're staying hydrated.
3. Incorporate exercise into your routine.
Even when you don't have access to a gym, it's still possible to get a good workout as a truck driver. Consider setting aside time at the beginning or end of your 10-hour break to get the 150 recommended minutes of weekly physical activity.
Both in- and outside of your cab, you can do exercises such as:
Squats.

Lunges

.

Push-ups.

Crunches.

Planks.

Heel raises.

Bridges.
You can also add more variety to your workout routine with simple equipment like:
A resistance

band

.

A jump

rope

.

A small set of weights.
4. Go for walks
.
If a full exercise routine isn't your speed, finding time to walk can also help you stay healthy. Walking benefits every part of your body, as it stimulates your metabolism and helps you process excess blood glucose.
Choose a specific time every day to find a safe place to park and walk for at least 10 minutes. This can be done while:
On your

30-minute

break.

On your 10-hour break.

On your 34-hour reset.

D

oing laundry.
You should also consider stretching before and after your walks, or even when fueling.
5. Practice

portion

control
.
To keep a healthy weight, you need to balance the calories you eat with the calories you burn. Limiting your food portions to avoid overeating can go a long way in maintaining your calorie intake.
You can keep portions at a healthy size by:
Keeping

servings

to the size of your fist.

Drinking

water before meals to control your appetite.

Packaging

food or snacks into individual servings using zipper bags

or Tupperware

.
6.

Eat more veggies

and

greens.
Adding vegetables to your diet is one of the most important aspects of eating healthy as a truck driver. Vegetables provide necessary fiber and nutrients that are vital for health.
Try for three cups of vegetables each day, including at least one type that's green. Try to make veggies ¾ of your plate by adding them to meals like soups, stews and eggs.
Some vegetables you can easily prep ahead of time as snacks, and combine with a dip like ranch or hummus, include:
Baby carrots.

Celery.

Snap peas.

Kale chips.

Bell pepper s

trips

.

Zucchini slices.

Cherry tomatoes.
7. Pick foods with fiber.
Fiber aids digestion and helps lower cholesterol, making it essential for both preventing chronic diseases and aids your general wellbeing.
You can easily incorporate fiber in your diet by choosing snacks such as:
Oatmeal.

Fruits.

Vegetables.

Nuts.

Beans/lentils.

Low-butter popcorn.
8. Shop smart and meal prep.
Making time to grocery shop instead of relying on fast food options will not only save you money, but help you make better dietary choices.
Some of the many healthy items you can add to a simple grocery list for truck drivers are:
Produce items, such as fresh fruit and pre-packaged salads.

Quick, microwavable meals, like oatmeal and instant rice.

Healthy snacks, like granola bars,

nuts

and trail mix.

Meat/dairy items, like

hard-boiled eggs, yogurt and individually wrapped cheese.
Also consider learning how to meal prep and cook in a semi-truck to further improve your eating habits.
9. Invest in yourself.
Some simple purchases can have a large impact on improving your healthy habits as a truck driver. A few items you can consider buying include:
A sunshade cover

for

your windshield

, to

help you get better sleep by blocking out more sunlight, especially if you sleep during the day.
A good seat cushion,

to

help you

get rid of

the back pain that can come with sitting for up to 11 hours a day.
A cooler,

to

keep

your

fo

od cold while on the road

and

help you store

the

ingredients for healthier meals.
10

. Find ways to relieve stress.
Just like any career, truck driving can be stressful at times. Luckily, there are many ways drivers can work to reduce their stress.
First, you should try to figure out what causes your stress. Second, try to manage your stress when it occurs by:
Getting outside and exercising.

Communicating with other people.

Making time

for activities you enjoy.

Asking for help.
Discover more ways to stay healthy out on the road
Maintaining healthy habits can be tough for a truck driver. Check out more of our blogs to learn about topics like exercising,
cooking
and staying alert while driving.
About the author

Schneider Guy loves the "Big Orange." He's passionate about the trucking industry and connecting people to rewarding careers within it. He's been the eyes and ears of our company since our founding in 1935, and he's excited to interact with prospective and current Schneider associates through "A Slice of Orange."