8 essential tips for women truck drivers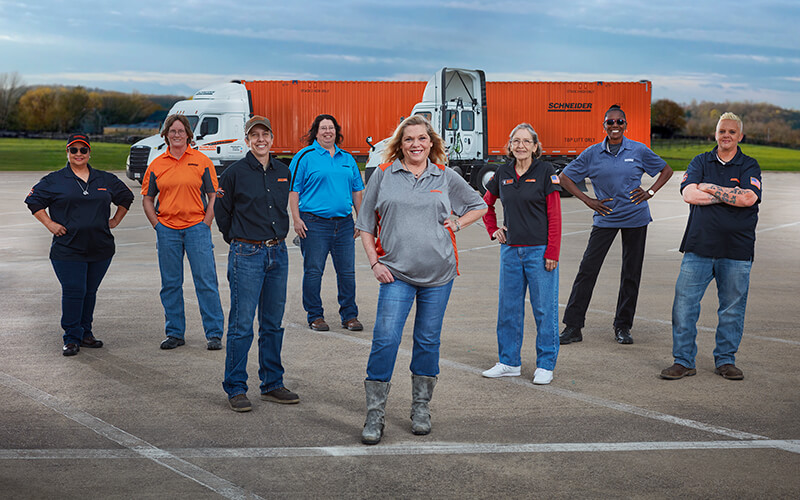 In March, we had the opportunity to talk with eight female intermodal truck drivers who are based out of Schneider's Haslet, Texas location. They talked about why they love truck driving and why other women should join the industry
"I don't see why a woman shouldn't consider driving a truck. It's a great profession if you like getting out and seeing different places… being in control, being independent. It's a great job for a female," Liz said.
The women also shared their tips for women truck drivers about how to be successful out on the road.
Advice for female truck drivers
1. Have the confidence to do things yourself
Remain confident. You increase your confidence by asking questions, staying calm in stressful situations and not asking others to do difficult tasks for you.
"You're going to get offers left and right coming up and saying, 'I'll back it up for you if that's difficult for you, honey.' Or, 'I'll do this for you,'" Liz said. "I've seen it over the years that a lot of women, they do, they let other people do things for them and they never learn. You've got to do it yourself and be patient. You'll get there."
2. Be patient while driving
Whether it's backing, driving in a busy city or just learning the ropes of truck driving, it's important to not get frustrated when you make mistakes. Instead, look at difficult situations as learning opportunities.
"A very good tip is to have patience, lots of patience," Genevieve said. "One of the things that I see in truck stops when you park to take your break is people have difficulties with backing up or backing into their parking space. You can drive down the road all day, but have trouble backing up. That's where that patience comes in."
3. Reach out to other truck drivers
Find other truck drivers, male or female, to connect with. Keep in touch with them and encourage them to keep working hard.
"It's great to have the partnership because we do," Jennifer said, "I mean, we all do stick together."
4. Use your resources
Whether it's asking for help from your DTL (Driver Training Leader), talking to fellow drivers about questions you have or joining the Women in Trucking Association, take advantage of different outlets to get more involved.
"There's a lot of resources available to women to get into the trucking industry," Christine said. "And as a matter of fact, right now, I'm working on a program here, in the Dallas area, to promote women in trucking and to get the word out."
5. Communicate with your leader
Don't hesitate to reach out to your DTL if you're having problems. Having open communication will ease your nerves and make you feel safer while out in the truck.
"My DTL at Schneider is the best," Robbin said. "We communicate well; he knows my routes, he knows where I want to go, he knows where I don't want to go. That's the best thing - when you have great communication."
6. Trip plan every day
Taking ten extra minutes each morning to check the weather, look over your route on an atlas and plan where you're going to stay that night will actually save you time in the long-run and prevent problems from occurring.
"If you take time to do trip planning, do your pre-trips on your truck and always have a place that you know where you're going to stop, like a truck stop and get your proper rest, you progress really easy and quick," Virginia said.
7. Have a positive attitude
If you find yourself asking for help from other truck drivers, do it in a polite way. Make sure you return the good deed. Keep a positive attitude and cheer other women on for being truck drivers.
"Most of the time I'm treated with respect out on the road," Trish said. "It's always nice when women pass me, they'll honk and give me a high five, I always like that. But I think a lot of it has to do with my attitude. Whenever I ask another truck driver for help, I'm very nice. And, other people are nice, too; I've never been refused help."
8. Work for a company that values you
Drive for a trucking company that offers different home time configurations so you can find a job that works for you. On top of that, search for a company that will treat you with respect.
"Find a good company, someone who respects you and knows who you are," Pixie said.
See why women truck drivers choose Schneider.
Schneider is committed to helping female truck drivers find jobs where they feel challenged, safe and satisfied. Learn more about what we have to offer.
About the author

Schneider Guy loves the "Big Orange." He's passionate about the trucking industry and connecting people to rewarding careers within it. He's been the eyes and ears of our company since our founding in 1935, and he's excited to interact with prospective and current Schneider associates through "A Slice of Orange."