Tom Menger: from driver to Driver Compensation Manager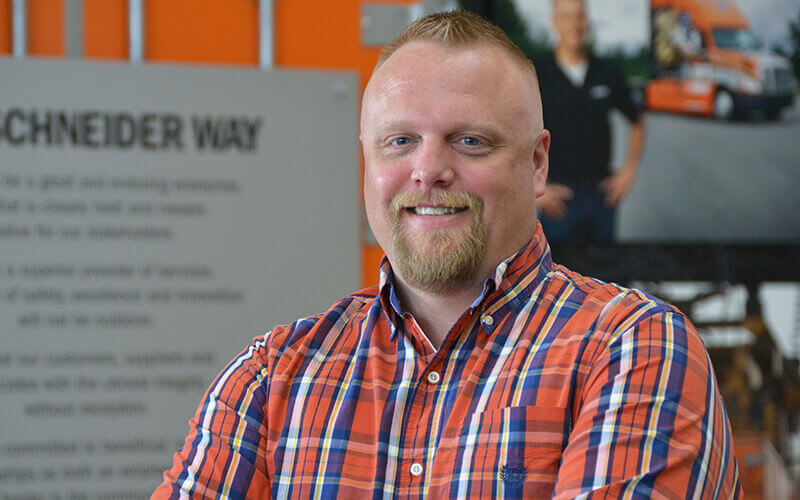 Tom Menger has held a variety of jobs since he started at Schneider in 2002. He first drove Van Truckload and Dedicated for three years, and then transitioned into a driver training position for another three.
Since then, he's held roles as a Driver Team Leader (DTL) for 0-90 day drivers, a fleet manager for different dedicated accounts, a support shift leader and more.
Most recently, Tom transitioned into Driver Pay as a Compensation Manager where he oversees every driver's pay throughout the entire company. It's a role Tom said he never would have imagined himself in when he first started at Schneider, but he is thankful to be in now.
"I see myself in this role long-term because there are so many different challenges and opportunities here ahead of us," Tom said. "You never know what tomorrow brings and that's what makes it exciting."
Tom's truck driving career
Tom became a truck driver after deciding he wanted a new challenge, something outside of the sales roles he previously had. Tom said choosing a carrier was easy – that Schneider offered the whole package.
"We have the resources to keep you busy, the freight to keep you running and the office associates to help you with issues," Tom said. "If you want to drive truck for a career, this is a great place to do that. If you want to become something else and move into the office, there's opportunities to do that as well."
Transitioning into the office
Tom became a DTL after being a driver and driver trainer. He said his experience of being out on the road helped him become a DTL other drivers could trust and turn to for help.
"I was really able empathize with the driver," Tom said. "There were a lot of phone calls I would take from drivers and they would just need someone to talk to because they've had a frustrating day and they just want to vent. It was easier for me to understand that piece of it. I was able to relate back to them and tell them what I did in that situation."
Managing Driver Pay
Today, Tom manages the Compensation Administration Team, where his biggest responsibility is to make sure Schneider drivers are paid properly and timely for the work they do.
"We owe it to the drivers to pay them accurately and on time," Tom said. "At the end of the day, we are all here because of drivers. I want to make sure we're paying them fairly, we're paying them accurately and if something happens and they're not paid correctly, I want to be able to explain to both them and to their leader what happened and how we can make it right."
Many people don't realize how much goes in to driver pay, Tom said.
"Frankly, there's so many different ways to pay drivers and driver pay consists of so many components for the work they do," Tom said. "It's not just about the cents per mile; there's accessorial pay they get, it's how many miles they get, what type of equipment are they in and those other benefits that show up on their weekly paychecks.
"It's more than just a dollar sign."
From driver to Driver Compensation Manager
Tom does his job well today because he's able put himself in the shoes of the drivers. Contrarily, he hopes drivers are able to keep in mind how hard his team works day-to-day to get pay right.
"We are passionate about Driver Pay," Tom said. "My team doesn't necessarily influence how much they get paid, but we influence if the pay comes through correctly, if it's timely and if it's accurate. We're here to make sure drivers' questions are answered and to assist them and their leaders in making sure they are being compensated what they should be."
Where could you go at Schneider?
The opportunities to grow at Schneider are endless. Start a fulfilling career today and see how far you could go.
About the author

Schneider Guy loves the "Big Orange." He's passionate about the trucking industry and connecting people to rewarding careers within it. He's been the eyes and ears of our company since our founding in 1935, and he's excited to interact with prospective and current Schneider associates through "A Slice of Orange."