Veteran driver reenlists into Air Force at Schneider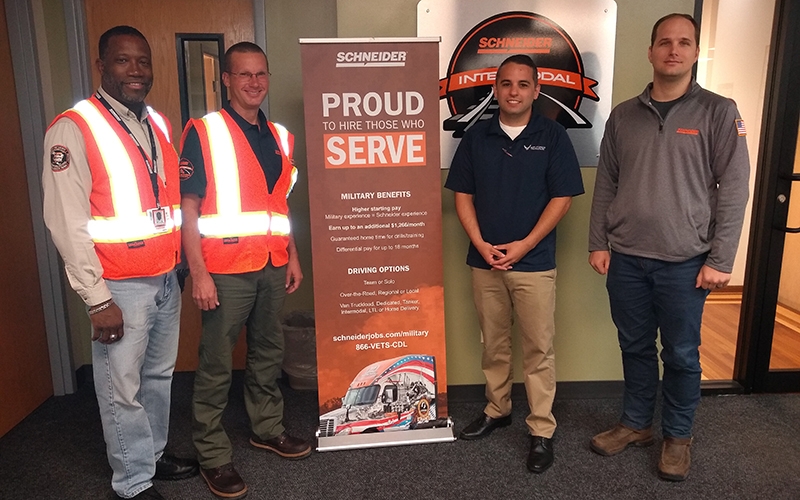 October 3, 2019 is a day associates and drivers at Schneider's Chicago facility and training center will remember for a long time.
On that Thursday, Intermodal driver Don Antle reenlisted into the U.S. Air Force at his newfound home, Schneider.
"The ceremony was really special, because you could see the military support from everyone involved," Don said. "Everyone took a moment to help me accomplish something that I did not have enough time to do while in my home state of Colorado. What I will remember most is that my employer, Schneider, made me a part of their family, made me feel special and took time to recognize the great sacrifice of our military veterans and service members."
Holding the ceremony at Schneider
When Don decided to reenlist into the Air Force, he was met with the challenge of figuring out when he would have his reenlistment ceremony. Being in driver orientation at Schneider and also having a busy schedule out on the road, he struggled to find the time to perform the ceremony.
Being a military-friendly company, Schneider immediately stepped in and was willing to do what it took to help Don find a place to reenlist. It was quickly determined that holding the ceremony on Schneider grounds would be the best option.
A commissioned officer was needed to conduct the ceremony, but the availability of an Air Force officer was in short supply given the location and timeframe of the reenlistment.
Finding a commissioned officer
With 22 percent of Schneider associates having a military background, it made sense to look internally to find someone willing to perform the ceremony for Don.
Schneider Operations Manager, Corey Dyke, a captain in the U.S. Army, stepped up to the plate and agreed to perform the reenlistment ceremony.
"This wouldn't happen at a company that isn't as pro-military as Schneider," Corey said. "This could only happen here."
The reenlistment ceremony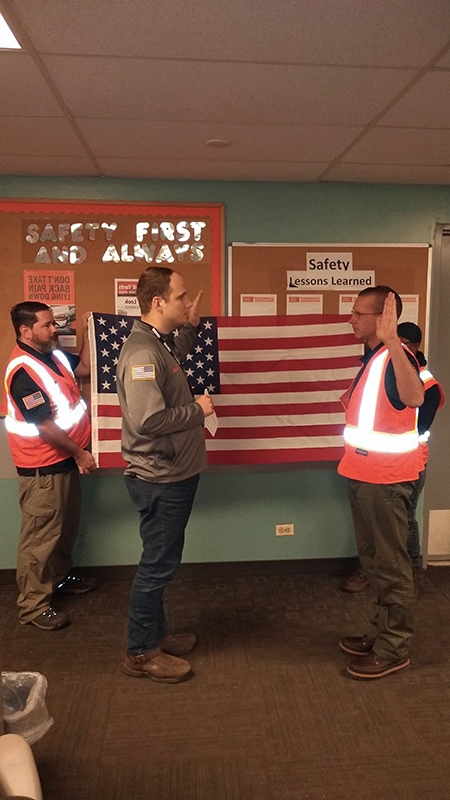 The reenlistment ceremony took place in front of the Chicago hub and training academy, which made for a great fanfare.
"There were 70 people in the room during the ceremony; 50 office associates and then we brought in 20 drivers" Corey said. "There were civilians there, who had never seen a reenlistment ceremony before. For some, it was a once-in-a-lifetime opportunity to watch someone take the oath to serve our country."
When asked how he would describe the ceremony and the number of associates who witnessed it, Don replied with, "Wow."
"I think the 'take away' of this is that Schneider truly cares," Don said. "They care about their employees, show support for the troops and recognize veterans and their service to the nation. I want to thank everyone for making it such a special day."
Why Schneider?
Transitioning from the military to civilian life can be difficult and finding the right employer can be challenging for veterans. Senior Instructor at the Schneider Chicago Intermodal Training Academy, Willie Henderson, who attended the reenlistment ceremony, helped coordinate it and is an Army Combat Veteran himself, described what makes Schneider such a great home for veterans.
"Schneider gives veterans the opportunity to fulfill their obligations to the military, like reporting for training on weekends," Willie said. "We give them the opportunity to provide for their family. Schneider gives them structure and order, and military personnel often look for that.
"The door is always open at Schneider."
Could Schneider be your new home?
Learn more about what Schneider has to offer to veterans and fill out a quick military pre-qualification profile.
About the author

Schneider Guy loves the "Big Orange." He's passionate about the trucking industry and connecting people to rewarding careers within it. He's been the eyes and ears of our company since our founding in 1935, and he's excited to interact with prospective and current Schneider associates through "A Slice of Orange."
More posts by this author