Life of a truck driver: What an average day looks like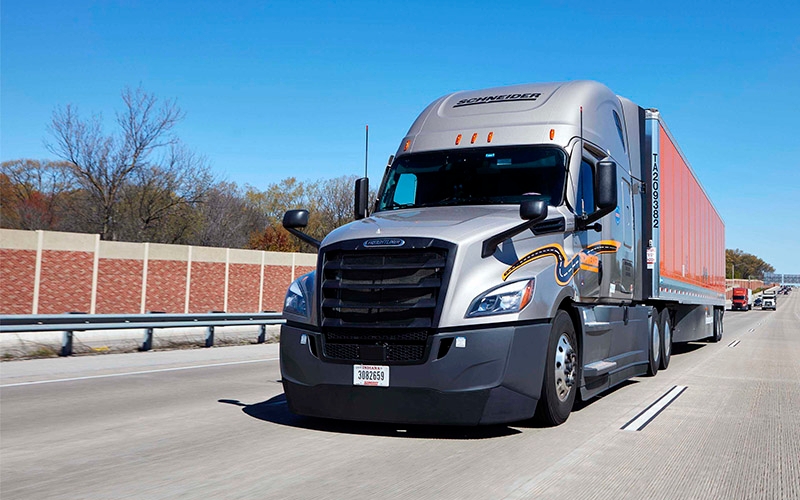 Estimated reading time: 3 minutes
While most have a basic understanding of what truck drivers do, few know or appreciate all that goes into a driver's day-to-day living. Where do they shower? What do they eat? What is the life of a truck driver really like?
I was a professional Schneider driver for many years and am now a Driver Instructor at Schneider's Green Bay training center. I can tell you that life as a trucker was fun, interesting, frustrating, satisfying and challenging — often all in the same day.
So, what was a typical day like for me?
A typical morning for a truck driver
At Schneider, I was an over-the-road van truckload driver. Your day will likely look a bit different if you are a bulk, intermodal, local or some other type of driver.
Since I drove during the day, I started my shift early in the morning. If you drive at night, however, you may do some of the following in the evening. Here's what my mornings often looked like:
Early start: I usually woke up before 6 a.m.
Breakfast: I decided what I was going to eat ahead of time by packing food in my truck. This way, I could eat healthier and avoid spending money on eating out.
Shower: Sometimes I'd take a shower before I left. Other times, I'd wait and take one a bit later when I stopped to fuel and take a break. Truck drivers typically use showers at truck stops, which can cost $10 to $15 per use if you aren't part of a rewards program. Not all stops have showers, though, so you should plan ahead of time when and where you intend to shower.
Pre-trip inspection: After breakfast, I'd do my pre-trip inspection. This is one of the most important parts of a truck driver schedule. You can expect this to take at least 30 minutes to complete.
Hitting the road: With everything ship-shape, I'd head down the road. My daily mileage averaged 350-450 miles, with a day every so often over 500 miles. That translates to seven to nine hours of driving each day. Other drivers who have different schedules can drive miles in any given day.
A typical break for a truck driver
Sometime near the middle of my day, I'd take my 30-minute break. In the interest of safety, the Department of Transportation requires drivers take this half-hour break after, at most, eight hours of driving.
It's important to get out of the truck, stretch and enjoy a light lunch or snack to keep you fresh and ready for the rest of your day.
A typical afternoon for a truck driver
While my days started with a similar routine, the rest of the day was as different as my dispatch dictates. Here are a couple of ways it could've played out:
Drop and hook the trailer I was hauling: While hauling drop-and-hook freight, I would simply drop off my trailer and pick up an empty one to take to a different shipper. With this type of freight, the driver doesn't have to wait for the unloading to happen.
Wait for my trailer to be live unloaded: When hauling freight that requires a live unload, I would bring the trailer to a receiving dock and wait for it to be unloaded. Some loads are considered no-touch freight, but not drop-and-hook, meaning the driver does not have to do any of the unloading themself but cannot just drop the trailer and leave.
In either case, my tablet detailed when and where I was getting my next load and helped me plan my next trip. The new trip planning application can make the selection of your route easier and more efficient.
A typical evening for a truck driver
Since I knew where my day would end, I would plan where I would be spending the night ahead of time.
Parking: Since I usually started my days early, I'd do my best to be parked no later than 7 p.m. Some of the places I would stop included:
Rest areas.
Schneider facilities.
Truck stops.
The longer you're a truck driver, the more familiar you will get with where you like to stop.
Post-trip inspection: Once parked, I'd do my post-trip inspection of the tractor and trailer to make sure the equipment was still in good shape after a day on the road.
Paperwork: After the inspection, I'd finish off any remaining paperwork or work-related tasks on my tablet.
Dinner: By carrying your own meals in an electronic cooler or fridge you can keep your food costs down. Every driver must discover his or her own way to manage meals on the road. A little innovation can go a long way to prevent yourself from eating out for every meal.
Free time: I often spent the rest of my evening reading or using my computer, but there are plenty of other things OTR drivers can do for fun. For internet access, I used a hot spot on my phone that allowed me secure access wherever I had a cell signal.
Want to experience the life of a truck driver for yourself?
Explore Schneider's huge selection of driving opportunities near you to get your trucking career on the road.
About the author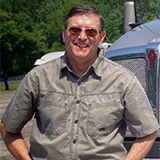 Henry "H.G." Frautschy of Oshkosh, Wis., was a Schneider driver for many years and is now a Driver Instructor at Schneider's Green Bay training center. Previously, he served as the editor of EAA's Vintage Airplane magazine, and the Executive Director of the Vintage Aircraft Association. A longtime private pilot and FAA-rated mechanic, he enjoys writing about ground and air-based transportation issues.
More posts by this author