Austin Sylvester: Breaking into the sales industry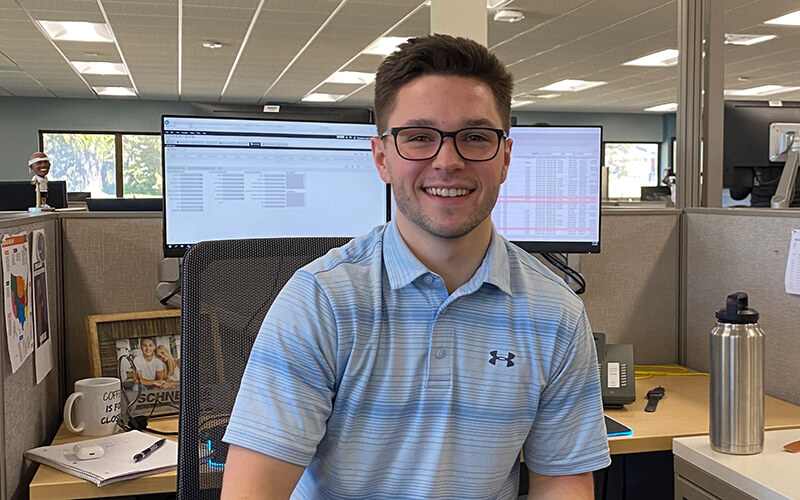 Austin Sylvester didn't start out looking to get into a sales career, but now as one of the top new Sales Account Representatives for Schneider Transportation Management (STM), he is glad he found the path he did.
Austin is already on his way to building a very successful sales career at Schneider, and as a bonus, says he is really enjoying the flexibility the job provides.
"You have the freedom to build your business in the way that makes the most sense for you," Austin said. "With uncapped commission, you put in the work and get instantly rewarded. STM gives you the tools to constantly expand and grow."
What Austin did in college to prepare for a career in sales
Austin received a college degree from the University of Minnesota-Duluth where he majored in Entrepreneurship.
Like many top salespeople, Austin came into his first sales role with little prior sales experience. Austin actually discovered his desire to sell through his part-time bartending job in college
"I love competition," Austin said. "I was working at a restaurant in college and I always wanted to lead the night in tips. I realized through that job that I love to sell things and please my customers."
Austin said his bartending role also helped him learn the basics of selling and set him up well for his current role. While bartending, Austin said he learned how to provide customers with drink suggestions and reasons why his suggestion was a good option.
"A prospective customer approaches, you run them through the options, make a suggestion and convert them to a customer," Austin said. "It's similar to what I do now; I present [a business] with a transportation solution and then proceed to convert them to a customer."
Austin also played football in college where he learned the importance of discipline and motivation. After Austin's football career was cut short due to injuries, he wanted to find a rewarding career where he could still compete. Sales allowed him to do that.
"Sports taught me hard work," Austin said. "In football, if you don't work, you fail. Football taught me that the more you work, the better you will be. Sports created the inner desire for competition."
How Austin has found success at Schneider
Following a very successful internship at another company where he was the top door-to-door salesperson, Austin found Schneider to be a natural choice for him to further develop his career in sales.
"If I was going to work in business in Green Bay, I wanted to work for one of the largest companies," Austin said. "The recruiting process at Schneider was personable and made me feel like the company was investing in me."
Having learned the value of working hard and seeing the rewards, Austin now uses the drive and motivation he developed while in college to succeed in his sales role.
"Top sellers don't do anything special they didn't learn in training; they just put in the work," Austin said.
Although Austin had all the right characteristics to succeed in his role at Schneider, he also gave credit to Schneider's Apprentice Program that he was enrolled in as a new seller.
"I have one of the biggest flatbed accounts in STM right now, Austin said. "The Apprentice Program taught me how to manage this. It was not hard to translate what I learned to land this big account."
Austin's advice for young professionals
Austin's advice to new sellers is simple: work hard.
"My future can be whatever I want it to be," Austin said. "My daily effort will determine that. If I want to be the top salesperson I can, I just need to put in the work."
And Austin doesn't just talk-the-talk when it comes to the advice he gives; he walks-the-walk.
"Through my success in this job, my fiancé and I own our own home and will be able to pay for our honeymoon," Austin said. "If you are a recent college graduate, this role can really help you get your career started!"
Ready to kickstart your sales career?
Join Schneider's sales team and see where your career could go. View all our current opportunities and apply for the right role for you.