Is being a diesel technician a good career?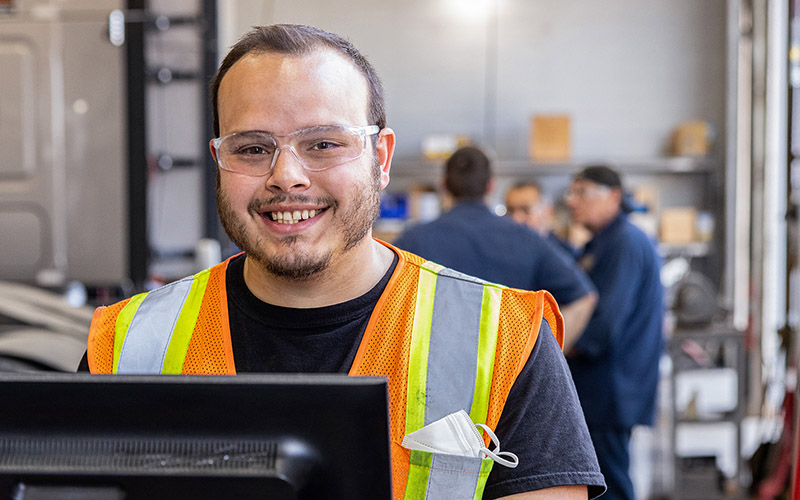 Estimated reading time: 4
minutes
Diesel technicians have one of the most important and rewarding jobs in the transportation industry. They are on the front lines – working hard to keep trucks, drivers and the economy moving.
However, like any career, being a diesel technician may not be worth it for everyone. That's why it's important to review the pros and cons before deciding if being a diesel technician is a good career for you.
The pros of being a diesel technician
1. Diesel technicians make good money
Per the Bureau of Labor Statistics, the median pay for diesel technicians was $48,690 per year, or $23.41 per hour, in 2021. At Schneider, diesel technicians can earn up to $31 per hour starting out, depending on their experience.
Another advantage is that most diesel technicians earn hourly pay. This means they are compensated for every minute they are working.
Plus, many companies, like Schneider, offer ways to earn more money, such as:
Sign-on bonuses.
Shift differential for working second and third shift.
Weekend pay.
Overtime opportunities.
2. Diesel technicians can advance their careers.
Diesel technicians have a ton of opportunity to grow their career, in a variety of ways, too. Some of the most common ways diesel technicians advance their careers is by:
Moving into more advanced technician roles, such as:
Senior diesel technician
Lead diesel technician.
Master diesel technician.
Taking on a shop leadership role.
Becoming a mobile diesel technician.
Especially when working for a large organization, such as Schneider, the career growth opportunities are endless.
3. Diesel technicians can pick their hours.
Many companies that hire diesel technicians are 24/7 companies. This means they have first, second and third shift opportunities for maintenance associates to pick from, as well as part-time and weekend work options.
Schneider even offers four-day workweeks at many of its shops.
4. Diesel technicians enjoy an agile, ever-changing work environment.
No two days are the same for diesel technicians. The tasks they complete vary from preventative maintenance to express-related services to rebuilds. Even the equipment they work on can change from day to day.
Diesel technicians will always be in high demand. Technology may change, and the economy will go through its ups and downs, but equipment will always need to be maintained and repaired.
6. Diesel technicians receive on-the-job training.
Many large companies, like Schneider, train their diesel technicians while they're on-the-job. This training helps diesel technicians become more skilled in their trade and opens more doors to opportunities.
The cons of being a diesel technician
1. The job is physically demanding.
Diesel technicians are on their feet all day, working on heavy equipment with heavy-duty tools.
If you're someone who prefers to sit at a desk, being a diesel technician may not be the right fit for you. If you want to use your hands to fix things and move around throughout your workday, it could be a perfect fit.
2. Not all shops are climate controlled.
Diesel shops can be warm in summer and cold in the winter. That's why it's important to find a company that provides high-quality uniforms and maintains their shops well.
3. Safety always has to come first.
On top of the heavy equipment, shops can have oil spills, chemicals and trip hazards, which can create a more dangerous work environment. This is why it is vital to work for a company that puts safety first and provides high-quality uniforms and tooling to help mitigate these risks.
4. There's always something new to learn.
Diesel technicians' jobs are always evolving, which means there is always a better, more advanced way to do something. The need to keep up on your knowledge and skills may feel overwhelming at first as a new diesel technician.
Good companies provide top-notch training that makes it more attainable and less daunting to grow your skills.
Is being a diesel technician the right career for you?
If you're ready to take the first step to becoming a diesel technician, check out our six steps on how to do so.
About the author

Schneider Guy loves the "Big Orange." He's passionate about the trucking industry and connecting people to rewarding careers within it. He's been the eyes and ears of our company since our founding in 1935, and he's excited to interact with prospective and current Schneider associates through "A Slice of Orange."
More posts by this author