Kelsey Shaw: From Schneider intern to recruiting team leader in 4 years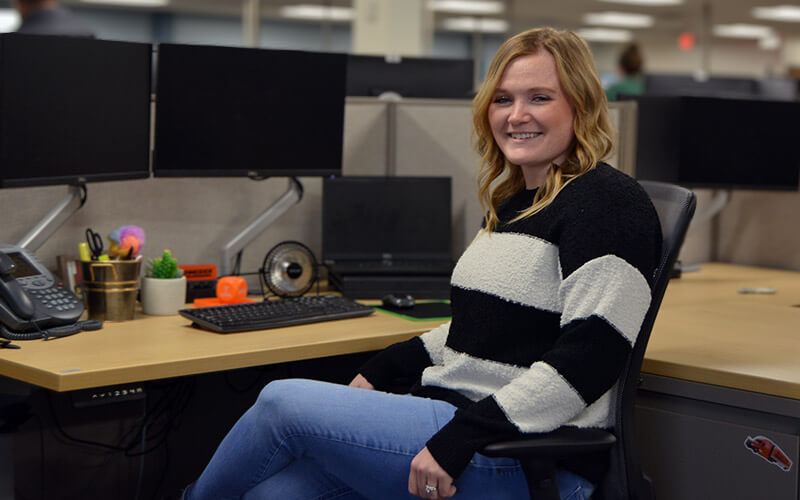 Estimated reading time: 3 minutes
When I walked into my university's career fair in 2017, I didn't know much about Schneider, recruiting or transportation in general. After speaking with a Schneider recruiter at the career fair, I felt confident the company would be a good fit for me. What first drew me to Schneider was the company culture and commitment to developing its associates.
When it came time to find an internship, I thought Schneider would be the perfect place to gain some experience in the corporate world. Little did I know this would be the start of my journey with Schneider.
Welcoming new drivers as a recruiting intern
Schneider has more than 9,000 company tractors in its fleet. For every truck, we need a qualified driver to fill the seat. Many of those hires start with a conversation with Schneider's recruiting team. As an intern at Schneider, I got to be the first point of contact for many candidates.
A typical day would include answering questions from drivers in our phone queue, following up with candidates who have already submitted applications and making sure candidates meet Schneider's initial qualifications before setting them up to interview with a driver recruiter.
Finding a team to lean on at Schneider
Throughout my internship, I learned the value of peers and strong leadership. I had a great team that helped me flourish and understand my strengths while identifying ways I could contribute to department goals. It gave me a source of continued support and motivated me to help others achieve success.
People tend to worry that asking questions is a sign of weakness, but at Schneider, it is encouraged. I quickly learned to lean on peers and leadership to understand processes and make sure I was making informed decisions.
The experience and relationships I gained during those nine months as an intern set the foundation for my career at Schneider. It's where I fell in love with driver recruiting, and I was ready to continue down that path.
Turning passion into success as a driver recruiter
Schneider's Driver Recruiting department is filled with so many professional, dedicated and hardworking individuals, and I felt a sense of belonging right away. I knew I wanted to continue working at Schneider after graduation, so when I was offered a full-time job as a driver recruiter, I hit the ground running.
I found purpose in helping drivers choose a meaningful career at Schneider. One of my favorite things was helping drivers find a rewarding career. I really believe in the hire to retire mentality and focused every day on how I could represent Schneider in a way that made drivers feel excited about joining our company.
Finding growth through new opportunities
As I grew in my role, I was eager for the chance to learn more about the transportation industry and help others. I had amazing leaders who pushed me out of my comfort zone and helped me identify opportunities to grow as a leader.
I had the chance to participate in a driver hiring event, where I answered calls from applicants and held on-the-spot interviews. At another event, I hosted sit-ins for people interested in recruiting so they could learn more about the work we do on a day-to-day basis.
In the office, I became a peer mentor and worked with new associates transitioning into driver recruiting. I was there to answer any questions they might have, but I also focused on getting to know our recruiters and welcoming them to the department. It wasn't long before I became one of the main trainers on my team.
I loved how much of a difference I was making, not only in lives of the drivers I hired but also the fellow associates I trained and mentored. Through my work, I could feed my passion for helping others learn and grow in their career while building on my own strengths and experiences with the company.
Becoming an agent for change as a recruiting specialist lead
I learned the recruiting process quickly and became a subject matter expert for other recruiters, both new and tenured. After about two years, I was offered a new opportunity as a recruiting specialist lead.
What I loved most about the role was how it encouraged me to act as a "change champion" for the department. I was still involved in day-to-day recruiting of drivers, but I was given opportunities to collaborate on projects, train new driver associates and improve the driver recruiting process.
Developing a team-focused mentality
I began to view things in terms of collective success instead of focusing on how I could contribute as an individual. It taught me a lot about what goes into creating a high-performance work environment and working with associates from different backgrounds, which put me in a good position to take on my next role.
Setting new goals as a team leader
About a year after I became a recruiting specialist lead, I was offered a recruiting team leader position at Schneider and transitioned to my new role in October 2021. One of the best things about my job is I get to come to work every day to help guide and mentor a group of amazing recruiters. I'm able to play a more active role in developing my team members, motivating those around me and being an advocate for positive change.
Continuing down an evolving career path
It has only been four years since I first walked into Schneider's Driver Recruiting department as an intern, and each stage in my career path since then has helped prepare me for duties as a team leader. Now about six months into this role, I still find opportunities to grow while working through the constant change and various challenges that come with the work we do.
Every day, I challenge myself to be a valuable and thoughtful leader for my team, and I look forward to continuing to achieve my own professional goals while helping my associates do the same.

The start of a rewarding career begins at Schneider
Schneider offers a wide variety of internship and entry-level job opportunities with plenty of room to advance. Search for local and remote opportunities, and apply for the right job for you.
About the author
Kelsey is a team leader on Schneider's driver recruiting team in Green Bay. Her career journey with Schneider started in 2017 when she became a driver recruiting intern while completing her Human Services Leadership degree at the University of Wisconsin-Oshkosh. She held roles as a driver recruiter and recruiting specialist lead before advancing to the team leader position in 2021. Kelsey's experience has set her up well for her current role, where she serves as a mentor and advocate for a team of driver recruiters.

More posts by this author