Driver Tanaya Everbe shares 10 tips for traveling during 34-hour resets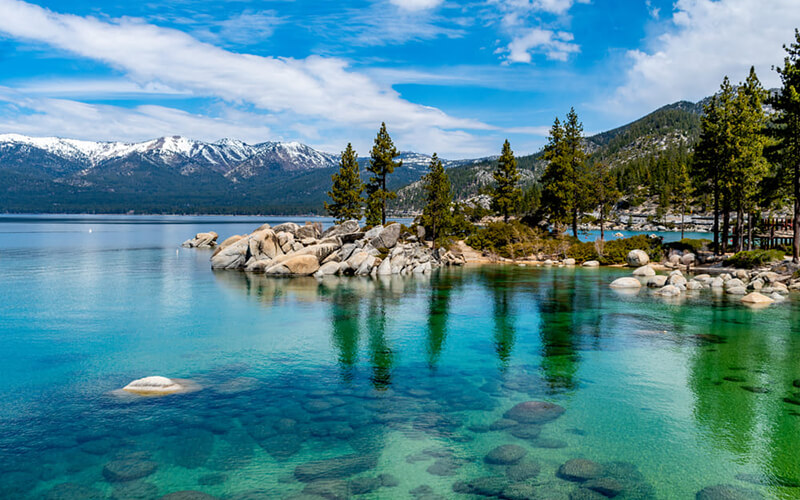 Estimated reading time: 6 minutes
The 34-hour reset rule is designed to help drivers comply with federal Hours of Service regulations and allows drivers to reset their 60 or 70-hour clock by taking a 34-hour rest period.
Often, drivers will spend this rest period at home or relaxing in their trucks. However, drivers like Tanaya Everbe and her co-driver Seth Carrington have found they prefer to turn their 34-hour reset into a miniature vacation.
Life before truck driving
Both drivers originally worked in high stress careers and felt it was time for a change of pace.
Tanaya, a mother of three, worked in the District Attorney's Office and decided to start truck driving after all her kids moved out of the house.
Seth served in the Coast Guard for 20 years as an electrical shop supervisor and started truck driving as a retirement gig.
Although Seth had some experience traveling prior to becoming a truck driver, Tanaya said she had traveled very little and wanted to see more of the country. Since becoming Team drivers in the fall of 2020, they've driven close to 80,000 miles and have been to 44 states.

Tanaya's top 10 travel tips for truck drivers

Tanaya and Seth decided early on that they would always take a 34-hour reset in order to relax and avoid burnout after a long week on the road. But, instead of spending all their time in their truck, they decided they would try to find something special to do during each rest period.
The following are just a few of the many travel tips Tanaya has learned along the way:
1. Start small.
Traveling and venturing away from your truck can be intimidating. That's why it can be helpful for drivers to ease into traveling by starting small and building up to bigger adventures.
"My advice for anyone who wants to test the waters is to dip your toe," Tanaya said. "Get out of the truck and do a small two-hour excursion, then be a little bolder and get a hotel room next time."
2. Make a list.
An easy way to start planning a 34-hour reset trip is by making a list of places to visit and things to do. This list can be specific to your current destination or can even include locations you hope to visit sometime in the future.
Tanaya said that she even keeps a journal of possible stops, which she adds to whenever she hears about a new or interesting travel destination. She and Seth then use this journal to determine where they want to go on their resets.
"We usually start planning about two days out from where we are headed and decide what area we might be in and if we can check off one of those things or places on the list," Tanaya said. "Stick to one thing and then if you find something else you like, write yourself a note."
3. Keep it simple.
"Don't over complicate it," Tanaya said. "Whenever I have a grand plan of everything I want to get done, we get overwhelmed and just end up not doing anything because you don't know where to start."
The key is to keep it simple by only planning one event or trip location. Trying to jam too many places or activities into a trip can make you feel rushed and stressed. And that's not fun for anyone.
"The best times I have ever had were the simplest trips where I didn't have any expectations of being this grand plan," Tanaya said.
Tanaya poses for a selfie at The Venetian Hotel in Las Vegas, Nevada.
4. Be open to change.
Not every trip is going to go exactly to plan, so be open to change. If plans fall through, drivers can always find something else to do in the area or look through their list of travel destinations to find something new to do.
But what if you can't decide on a new destination to visit? No problem. There's absolutely no harm in just using the time to relax in your truck instead.
"We try to find something special every time we stop," Tanaya said. "However, there have been times where some of our plans don't work out and we just rest instead of going somewhere."
5. Schedule buffer time.
Drivers often ask Tanaya how she and Seth can travel and enjoy themselves without worrying about getting back to their truck in time. Tanaya's advice is to schedule your trip wisely.
"All of our excursions are cut short just by a little bit to add that buffer in, so if something were to go catastrophically wrong, we would still have that buffer of time," Tanaya said. "If we have to get back to the truck at 2 p.m., we aren't going to plan to do something at 1 p.m."
That being said, drivers should always be aware of things like wait times or slower public transportation that can take up the time they have to get back to their trucks.
6. Use the resources available to you.
Not sure where to go, what to see or what to eat? Take advantage of the resources around you.
"Talk to locals about their favorite places to go," Tanaya said. "Talk to other truck drivers about different places to park your truck and talk to hotel staff about good places to visit."
Drivers can also use helpful apps like Uber or Lyft to get a ride to destinations or use apps like Grubhub DoorDash or Postmates to deliver food without having to find a way to travel to a restaurant.
Your truck can't go everywhere, but these apps and services can help bring the world to you.
7. Have a positive mindset.
Many drivers go into their 34-hour reset feeling stuck in their current location or fearing they won't have enough time to do anything during their rest period. However, Tanaya believes drivers can change this attitude by having a more positive mindset.
"Seth and I wake up feeling excited for the new adventure while some people dread having to go to certain places," Tanaya said. "You should try to have the mindset that you have the opportunity to do something new, even if it's just a mile outside of the truck stop."
8. Live in the moment.
Don't get so caught up in the work that you can't enjoy the rest time. A 34-hour reset should be a time where drivers not only reset their work schedule, but also relax and decompress after a long period of driving.
"Just enjoy every moment," Tanaya said. "When I get ahead of myself and am thinking about the next thing we need to do, I miss so much of what is in front of me."
Tanaya encourages drivers to use their reset to disconnect from work and focus on living in the moment.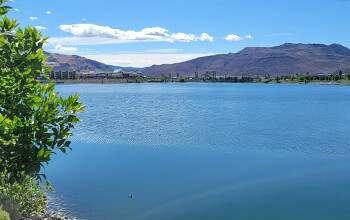 A view of the Sparks Marina in Sparks, Nevada, one of Tanaya and Seth's many 34-hour trip destinations.
9. Don't be afraid to try new things.
Team drivers like Tanaya and Seth often average over 5,000 miles each week. This means that they are constantly on the move and seeing new areas of the country. This broadens their opportunity to try new things.
Tanaya said that one of her favorite travel memories so far was when she and Seth rented a car and took a scenic drive up the East Coast.
"Seth used to live in Massachusetts and did maintenance on the light houses along the Atlantic Coast, so we took a tour of his old stomping grounds," Tanaya said. "I had never been on the East Coast before, so that was super special."
Tanaya said that this trip was especially memorable because she got to see the Atlantic Ocean for the first time and got to have her first lobster in Plymouth, Massachusetts.
10. Set goals.
Sometimes traveling is more fun when you have a goal in mind. This could be anything from visiting every state, seeing certain landmarks or eating specific foods. Drivers can also keep track of their experiences by collecting souvenirs during their travels.
Within the last few months, Tanaya set a number of goals for herself including visiting all the national parks, collecting keychains from every state she visits and even running a 5k in all 50 states.
Tanaya said her goals are what keep her motivated and moving forward during those long weeks of driving.
So, what's next for Tanaya?
Tanaya intends to continue to crisscross the U.S. as a Schneider Team driver, visiting as many unique locations as possible and checking off her travel goals. She also plans on sharing her love for travel with her children by taking them on a holiday trip to Europe.
Interested in traveling with a partner?
Start planning your own 34-hour reset adventures and paid to see the country as a Team driver with Schneider. Search for jobs near you today!

About the author

Schneider Guy loves the "Big Orange." He's passionate about the trucking industry and connecting people to rewarding careers within it. He's been the eyes and ears of our company since our founding in 1935, and he's excited to interact with prospective and current Schneider associates through "A Slice of Orange."