7 benefits of working second shift
Many companies, like Schneider, require 24/7/365 operation. This means they need to hire associates to work during the hours most people are at home and sleeping.
While working a non-traditional shift may not be something you have done before or ever really considered, you may change your mind after learning about all the benefits of working second shift.
Ultimately, it's up to you to decide which is better, first or second shift, and what would work best with your career goals and lifestyle.
What is second shift?
Working a second shift schedule means that you start work in the late afternoon and work into the late evening. A typical second shift schedule usually starts at 3 p.m. and ends at 11 p.m., however, second shift hours can vary depending on the company's needs.
Some people may be reluctant to take on this kind of schedule when making employment decisions, but in exchange for working evenings, you can get more pay, have more opportunities and enjoy a more flexible lifestyle overall.
There is more than meets the eye with an evening schedule!
Benefits of working second shift
1. Higher pay.
Second shift positions typically pay more because they come with a better pay package that includes shift differential. At Schneider, for example, we offer $1.25 per hour more during the week and $2.00 per hour more on weekends to associates who work second shift versus first.
Getting this additional pay is a great way to kick start paying off college debt or saving for a project or vacation!
2. Full benefits package.
Speaking of vacation, most companies offer full-time second shift associates the same benefits opportunities as those who work on first shift.
At Schneider, associates on second shift are offered vacation days, flex time and paid holidays. Second shift associates also have access to a full benefits package which includes healthcare benefits, 401K and retirement opportunities.
3. Flexibility for college students and parents.
A work schedule that begins in the late afternoon offers some great flexibility for your personal needs.
Whether you are a student attending college courses or have childcare needs during the daytime hours, working second shift gives you the opportunity to take care of those needs while still making money and building your career!
This type of schedule also offers a chance to take care of appointments and run errands while still working and not having to use your vacation time for those type of tasks.
4. Exposure to a larger variety of work.
Beginning your career on second shift often means that you are supporting a variety of departments and work.
At Schneider, our second shift associates support a wider variety of teams and customers than first shift associates do. This experience offers an opportunity to have exposure to many fellow associates and processes.
What a great addition to your resume for future positions in the organization!
5. Opportunity to advance your career.
Having that exposure to a larger variety of people and work often leads to great opportunities for career advancement. More sets of eyes see the work you produce, which gives you a better chance of moving up in the company.
A role on second shift is perfect for someone who is interested in growing their career into a leadership position.
6. Being able to sleep in.
Do you like to sleep in? Then this may be your top benefit of working second shift!
Think of being able to sleep in each morning and not having to start your workday until later in the afternoon!
Many employees enjoy this schedule because they are also working during a time when they can be more productive with less people and fewer distractions in the office.
7. Work that makes a difference.
Roles that make up second shift usually fall under customer service and operations. These are the jobs that keep companies operating at all hours of the day.
As someone who works on second, you will feel a sense of accomplishment knowing your efforts kept the company moving forward. Without second shift associates, companies wouldn't be able to operate 24/7/365.
Start or grow you career on second shift.
If you are looking for a great opportunity that offers you the perfect schedule while building your skills and growing your career, a role on second shift at Schneider may be a good fit for you.
About the author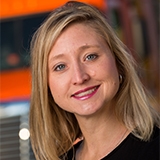 Becky Collar is a Corporate Recruiter and has been with Schneider since starting as an intern in May 1997. She has held various positions throughout the organization including Logistics Technician, Team Coordinator, Technical Trainer, Payment Improvement Representative, Customer Service Manager, Rates Manager and Driver Business Leader.