How to thank truck drivers in 7 different ways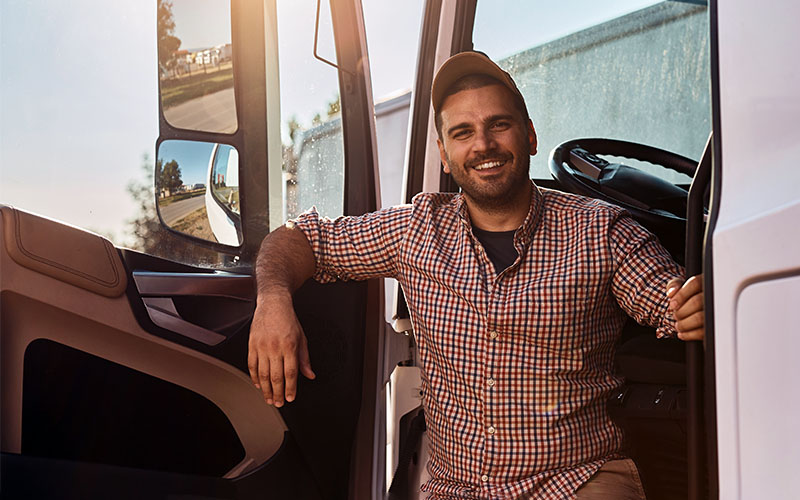 Estimated reading time: 5 minutes
September is a special month for the transportation industry. It puts more than 3.6 million truck drivers center stage to be recognized and thanked for the important work they do every day during truck driver appreciation week.
Take a moment to consider the time and effort it takes to move all the goods, supplies and equipment we use daily along U.S. highways. Then, look around the room you're in and try to find any item that wasn't – at some point in its lifecycle – delivered by a professional truck driver.
Whether it's during truck driver appreciation week or beyond, here are seven ideas on how to thank truck drivers for the work they do to keep America moving.
7 great ways to say thank you to a truck driver
1. Do your part to keep the roads safe.
This could be the best and most important way for you to thank professional truck drivers for their service.
According to the American Trucking Association, 80% of all semi-truck accidents are caused by cars. Doing your part to keep drivers safe so they can get home to see their families is the best thing any motorist can do when sharing the road with a trucker.
Some simple ways to be a safer motorist include:
Put your phone down and stop texting as you drive.
Pay attention to the roadway and leave plenty of room for the big rigs to operate.
Use your turn signals.
Be mindful of a truck's blind spots and avoid cutting into a trucker's following distance.
2. Thank truck drivers for their service.
A simple, 'thank you' means a lot to professional drivers who deal with difficult stops, angry drivers or hours on the road alone in the cab of their truck. If you can thank a truck driver, whether you see them at a truck stop or can call a trucker family member on the phone, do it. A simple "thanks for all you do" will light up a driver's day.
If you are on the road a lot, a "Thank you truck drivers" sign in your back window or a sticker on your vehicle is enough to make a driver's day better.
3. Pick up a driver's tab at a truck stop.
The next time you find yourself at a truck stop while on a road trip, pick up the tab for a truck driver. If you're standing by them in line, pay for the coffee they're about to buy. If you're sitting at a table near them in a truck stop restaurant, tell the server you want to pay for their meal.
If you've ever had the car ahead of you in the drive-through line pay for your coffee or meal, you know how good it feels. It means even more to a professional driver taking a well-deserved break from the road.
4. Give a driver a gift card for their essentials.
A driver's truck is their home away from home. Truckers take their meals, spend their leisure time and sleep in their trucks. That means the essentials we use at home every day are stored in the truck for those who make a living over the road.
A gift card from a national retailer or large truck-stop chain helps drivers with more than just a cup of coffee or a meal. It allows them to stock up on paper products, hand sanitizer, snacks, healthy food items and more.
5. Send a compliment to a driver's company.
Truckers often go out of their way to help others. They will stop to help stranded motorists, take the time to buy a homeless person a meal or let an excited child look inside the truck or blow the horn.
When you see things like we mentioned above, note the trucking company the driver works for and get the driver's name (if you can). If you can't get the driver's name, try writing down the number on their truck. Then, share your story with that driver's company via their social media channel or an email address you find on their company website.
Many companies have reward programs for drivers and recognize those who go above and beyond to help others.
6. Thank truckers on social media.
Whether you have a massive following or just a few friends, thank-you posts on social media always seem to find their way to drivers. Take the time to remind people how crucial truckers are to our lives and our economy.
Also, if you have a family member on the road and they have to miss a special occasion, make sure you thank that person for their sacrifice.
7. Make your business driver-friendly.
If you own a business that takes deliveries, you have ample opportunities to thank drivers every day.
Ways you can make your business more driver-friendly include:
Put a sign on your dock thanking drivers.
Make sure drivers have access to restrooms, and, if possible, a place to relax while waiting for paperwork to be processed.
Provide truck drivers with gift baskets or gift cards, or even just bottled water and snacks go a long way.
Encourage your associates to ask if drivers need anything when they arrive at your business.
Drivers will appreciate your recognition of how their efforts keep your business moving.
Searching for the perfect gift for the truck driver in your life?
You don't have to wait until the holidays to surprise a truck driver you know with a gift. Check out our 14 gift ideas for truck drivers, which make great ways to say 'thank you' as well.
About the author

Schneider Guy loves the "Big Orange." He's passionate about the trucking industry and connecting people to rewarding careers within it. He's been the eyes and ears of our company since our founding in 1935, and he's excited to interact with prospective and current Schneider associates through "A Slice of Orange."