The long-haul lifestyle: Life as an OTR truck driver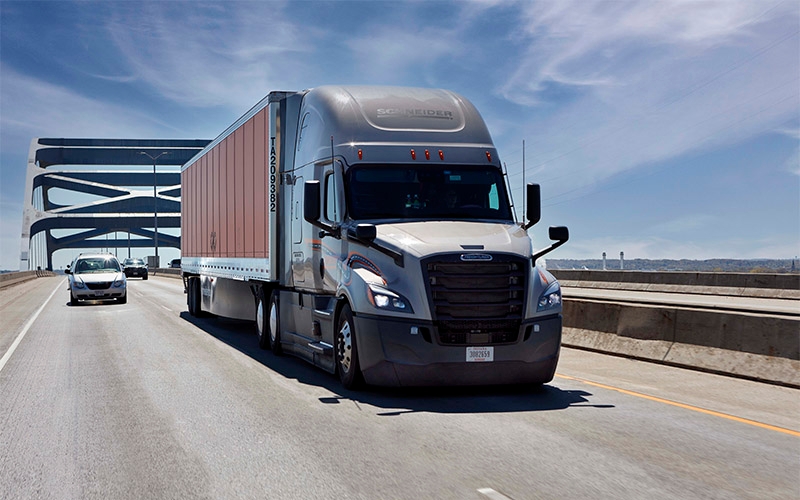 Estimated reading time: 4 minutes
While many driving jobs get you home weekly or daily, some drivers love getting as much of the open road as they can — and the big money that comes with it. OTR trucking is not for everyone, but those suited for the job excel at it and find it extremely rewarding.
Keep reading to learn all about what makes long-haul driving unique and what life as an OTR truck driver is really like.
What does OTR mean in trucking?
In trucking, OTR stands for over-the-road. Over-the-road truck drivers specialize in hauling freight longer distances than regional or local drivers do.
Many call them long-haul truckers, since they travel the country for a few weeks at a time before going home and sleep in the sleeper berth of their trucks.
Some of the top benefits of OTR driving are:
Higher earning potential
OTR drivers maximize their miles, which usually results in higher pay, since they spend so much time on the road. The loads they haul are typically in the 400–900-mile range. OTR drivers can maximize their pay potential even more by partnering up with another driver and operating as a team.
More variety
There are plenty of opportunities for OTR drivers to choose from, with solo, team, van truckload, dedicated and tanker jobs all available. On top of that, they get the chance to haul various types of freight and see tons of new places across of the country
More independence
Many people become truck drivers to escape the routine of a standard nine-to-five job. OTR driving jobs allow you to do just that while traveling across the country. Though you still report to a leader and get assigned to loads, there is less of that feeling of a boss looking over your shoulder and telling you what to do.
What is life like for an over-the-road truck driver?
Many consider OTR driving to be more than just a job, but rather a lifestyle.
Some of the most notable aspects of a day in the life of an OTR driver are:
Their work schedule
A typical OTR schedule includes 10-plus hours of driving a day. Some OTR drivers start early in the morning, while others drive overnight.
With so much driving, breaks become even more important for OTR drivers to stay healthy and alert. Like all other commercial drivers, OTR drivers must follow Hours of Service (HOS) regulations, and are required to:
Take a 30-minute break after, at most, eight hours of driving.
Take a 10-hour break after either 11 hours of driving or 14 hours of being on duty.
For a more in-depth account of what the day-to-day of an OTR driver is like, check out this blog by former Schneider OTR driver Henry Frautschy.
Sleeping
OTR drivers sleep in sleeper cabs (or berths). These are extensions of a semi-truck's regular cab that include a bed and other amenities. Sleeper cabs can come equipped with:
A twin-sized bed (or two, for teams).
Built-in storage and a desk.
A built-in refrigerator.
Space for a microwave.
Auxiliary Power Units (APUs) and/or bunk heaters.
Power inverters and outlets.
Showering
OTR drivers typically use the showers at truck stops, which can cost anywhere from $10-$15 per use. Some trucking companies, like Schneider, have operating centers across the country that are equipped with amenities like showers. Company drivers can use these for free when out on the road.
Meals
When it comes to eating, OTR drivers usually:
Eat at truck stops and/or fast-food restaurants.
Parking
As an OTR driver, you will typically park you truck in one of four places to sleep:
Rest areas.
Truck stops.
Company facilities.
A customer's facility, if allowed.
Upgrade to the OTR trucker lifestyle
If the open road is calling, it's time for you to answer and become a long-haul trucker. Explore Schneider's OTR driving opportunities and hit the road!
About the author

Schneider Guy loves the "Big Orange." He's passionate about the trucking industry and connecting people to rewarding careers within it. He's been the eyes and ears of our company since our founding in 1935, and he's excited to interact with prospective and current Schneider associates through "A Slice of Orange."