Schneider leadership program sets associates up for success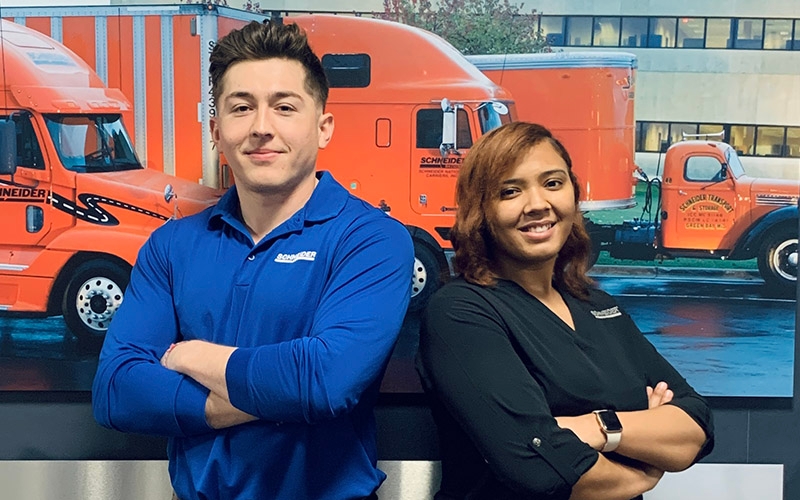 Estimated reading time: 4 minutes
Building professional skills is key to career growth, and it's something Schneider helps young professionals focus on through its Intermodal Driver Rotational Leadership Program.
Hayley Lee and Juan Durazo are two of the program's first participants. They shared what the program consists of and how their experiences in the program have helped them take their careers to the next level.
About the Intermodal Driver Rotational Leadership program
Associates in the Intermodal Driver Rotational Leadership Program spend their first year at Schneider's headquarters in Green Bay, Wisconsin exploring four areas of Intermodal, including:
Customer service.
The rail team.
Revenue management.
Network management/Planning.
During their second year, associates in the program relocate to a Schneider field location to work as a driver team leader and provide leadership to a team of Schneider truck drivers.
While in the program, associates focus on:
Learning the day-to-day operations of each role.
Learning the ins and outs of Intermodal.
Growing their leadership skills.
The goal of the program is for associates to use the knowledge they gained during their rotations to provide training and insight to others working in the field.
Hayley Lee

:

Going outside her comfort zone
Hayley's passion for transportation and logistics started before she graduated from college.
While in school, Hayley worked for a small trucking company in Michigan. That experience sparked her interest in the transportation industry and helped lead her to where she is today.
Looking for more career growth opportunities
Soon after she received her diploma, Hayley accepted a job in fleet management at the same trucking company she worked for while she was in college. As time went on, Hayley wanted to find new ways to grow her leadership and business skills.
She did some research and came across Schneider's Intermodal Driver Rotational Leadership Program.
"A huge factor that drove me to apply for this role was the opportunity to relocate," Hayley said. "I was anxiously excited to move to Green Bay. This was the first time I was moving away from home."
Starting her new position at Schneider
Hayley landed the role at Schneider and became the program's third participant.
"I am a life-long learner," Hayley said. "I really loved the fact that I was going to be able to learn all these different roles and expand my knowledge."
While moving away from home for the first time was a challenging adjustment, Hayley reminded herself the benefits of participating in this program would make it worth it.
"I feel like this experience will set me apart from my peers," Hayley said. "I'll have wide knowledge and insight into how I can help in my future roles at Schneider."
Advice for future participants
New opportunities often come with new challenges. Hayley suggestion to those interested in the program is to be open to learning and taking on whatever tasks they are given.
"Being part of the program builds so much character," Hayley said. "I feel as though I've learned a lot about myself as a young professional. This program provides insight into who you are as an employee, who you are as a worker and who you are as a professional."
Juan Durazo

: Shifting gears to a new career
Juan never intended on working in the transportation industry – his eyes were set on an entirely different field.
Juan dreamed of being a professional baseball player. In pursuing this dream – along with higher education – Juan moved all around the world. He lived in four U.S. states, Mexico and Sweden.
Finding his way to transportation
When the COVID-19 pandemic hit, Juan decided to change his professional goals. He started working for his dad, who owns a transportation company in Arizona.
Juan found he enjoyed the work and wanted to gain more experience outside of his family's business.
"I started applying for other jobs and found it was easier for me to get noticed by other transportation companies, since I already had experience in the industry," Juan said.
Taking on new challenges
After working for a smaller trucking business based in Tennessee, Juan hoped to find a larger company that provided opportunities for career growth and leadership development.
He found a job opening at Schneider and applied for the role. During his interview, one of the recruiters suggested he'd be a great candidate for the Intermodal Driver Rotational Leadership program.
"They explained it to me and asked if I was relocatable," Juan said. "I was like, '100%, I'll do it.'"
Advice for future participants
Juan found the Intermodal program provided an opportunity to sharpen the skills he wanted to improve, like public speaking. At the same time, he used his strengths and previous experiences to help other associates with their day-to-day processes.
Being vulnerable to learning and trying new things is one of the biggest pieces of advice Juan has for future participants.
"The cool thing about the program is it allows you to meet people and work on certain things," Juan said. "Taking on a new role every few months is not an easy task. Be comfortable being uncomfortable and lean on others to learn as much as possible."
Shape your success at Schneider.
Schneider offers unlimited opportunities for associates to grow their careers
.
Read more about
the
Schneider associates who are paving the way for the transportation industry.
About the author

Schneider Guy loves the "Big Orange." He's passionate about the trucking industry and connecting people to rewarding careers within it. He's been the eyes and ears of our company since our founding in 1935, and he's excited to interact with prospective and current Schneider associates through "A Slice of Orange."
More posts by this author