Schneider's on-the-job sales training helps sellers start or grow their careers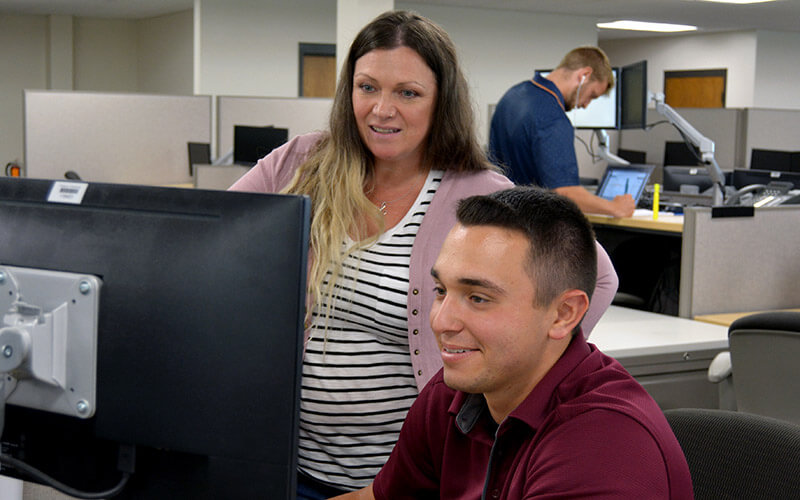 Estimated reading time: 5 minutes.
Regardless of if you're inexperienced or experienced in the world of sales, starting a new sales job at an unfamiliar company can be overwhelming. In order to be successful at their craft, sellers must know the ins and outs of their industry, employer and customers.
This is exactly why Schneider offers on-the-job sales training to all new Sales Account Representatives (sellers) who work within Schneider Transportation Management (STM). Sellers who complete this program gain the knowledge and insight they need to be successful in their new role at Schneider, no matter where they are currently in their career.
Keep reading for a breakdown of Schneider's Sales Account Representative Apprentice Program, provided by Schneider's Sales Training and Development Manager, Bob Pantalone.
Who completes Schneider's Sales Account Representative Apprentice program?
All newly hired sellers within STM complete the apprentice program, regardless of experience level. Whether someone has no prior experience or 25 years of previous sales experience, they are enrolled in the training program.
The program is held at Schneider's STM locations in Dallas, Chicago and Green Bay.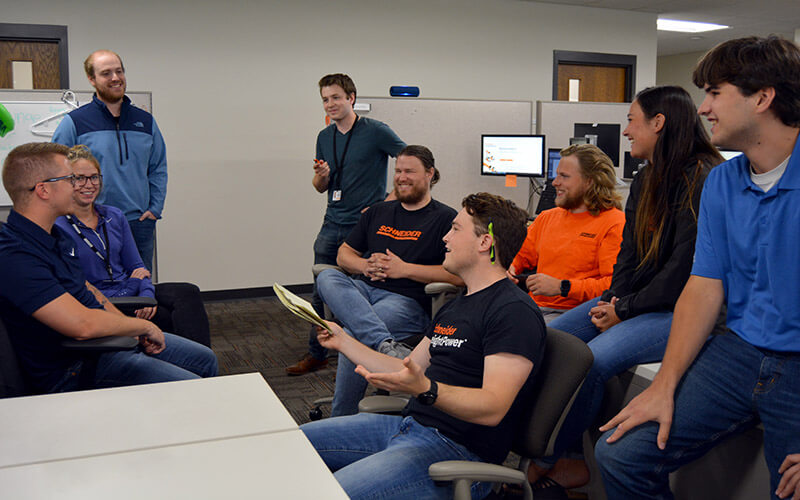 Breakdown of the Sales Account Representative Apprentice program
The apprentice program takes place during a seller's first six months at Schneider. The program is split into three stages:
Stage 1: Learning the core processes (weeks 1 and 2)
During the first two weeks of the program, sellers do not focus any of their time on sales. Instead, they gain background on Schneider and the transportation industry while learning the five core processes.
The five core processes include:
Load creation.
Appointment setting.
Driver check-ins.
Inbound calls.
Outbound calls.
Sellers learn these processes in weeks 1 and 2 of the on-the-job sales training so they can use them during the next stage of the program.
Stage 2: Joining an account management team (week 3 to month 3)
Starting week 3, sellers are placed on an account management team where they put the processes they learned during their first two weeks at Schneider to use. New hires use these processes to:
Service pre-existing accounts.
Learn the industry at a deeper level.
Better understand how to service their customers.
Become familiar with industry lingo.
By the end of month two, sellers are well-versed in technical processes, customer service and leveraging digital capabilities to advance the sales process.
Stage 3: Easing into sales training (month 3 through month 6)

At the beginning of month three, sellers start spending about 20% of their time in the role they were hired for – direct sales. They continue working with their account manager, but put a greater emphasis on sales training, which includes learning:
How to communicate with customers.
How to craft their messages.
How to make a call.
How to find the right customer.
How to bring a customer in.
During this stage, sellers also carve time in their days to solicit new customers. By the end of month 6, they've developed their craft and have a strong understanding of the industry.
After training is complete (beginning of month 7)
At this point, sellers transition into direct sales work and begin their journey as a Schneider Sales Account Representative.
However, some may discover, after working on their account management team for half a year, that their passion is not in direct sales. When this is the case, the associates are encouraged to stay on the account management team full-time.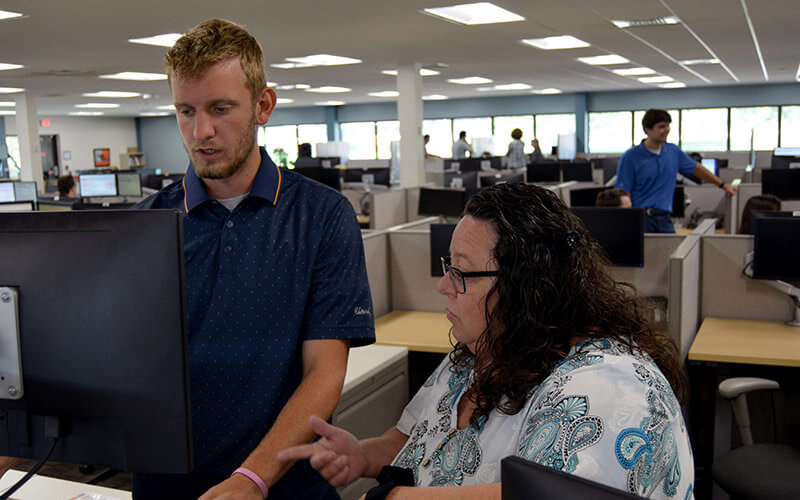 Why is the Sales Account Representative Apprentice Program beneficial for sellers?
The apprentice program sets Schneider apart from other companies that hire sellers because of what the program has to offer and how it sets sellers up for success:
1. Opportunity to earn a higher income short- and long-term.
Sellers in the apprentice program have the opportunity to begin earning incentive dollars (commission), on top of their base salary, at the beginning of week three when they join their account management team. In most sales roles at other companies, brand-new sellers rarely begin earning incentives only three weeks into their job.
Additionally, once a seller completes the program at the beginning of month seven, they have the resources and knowledge to earn more incentive dollars than they would if they hadn't taken the program.
2. Connections with more people.
Sellers meet, network and work with a huge variety of people while completing the apprentice program, including their apprentice program leader, account manager, account management team, direct sales manager and team, sales mentor, fellow sellers, etc.
Forming so many relationships gives sellers different outlets to go to for mentorship and advice both during the program and after completing it.
3. Time to expand skills and learn the industry.
This program is perfect for individuals who have little to no prior sales experience. It gives them the time to ease into the world of sales, while still earning incentives, and not feeling pressure to make sales right off the bat.
People who have prior sales experience also benefit because they gain the knowledge needed to thrive as a seller within the transportation industry. Additionally, if they find themselves excelling in the program, they can be recommended for the All-Star version of the program, which is an accelerated track for skilled sellers.
Who is a good fit for the Sales Account Representative Apprentice Program?
As mentioned throughout, this program is a fit for both experienced and inexperienced sellers. Schneider will teach you sales knowledge and help you expand on the skills you already have, in order to become a top-notch seller.
However, the sellers who complete the program most successfully are:
Willing and excited to learn about the industry and sales.
Open-minded to learning new concepts and approaches.
Hard working and ready to take on new challenges.
Ready to become a Sales Account Representative?
Learn more about the role and Schneider, and apply for an opportunity in Green Bay, Dallas or Chicago.
About the author

Schneider Guy loves the "Big Orange." He's passionate about the trucking industry and connecting people to rewarding careers within it. He's been the eyes and ears of our company since our founding in 1935, and he's excited to interact with prospective and current Schneider associates through "A Slice of Orange."