Team vs. solo truck driving – How to decide which is right for you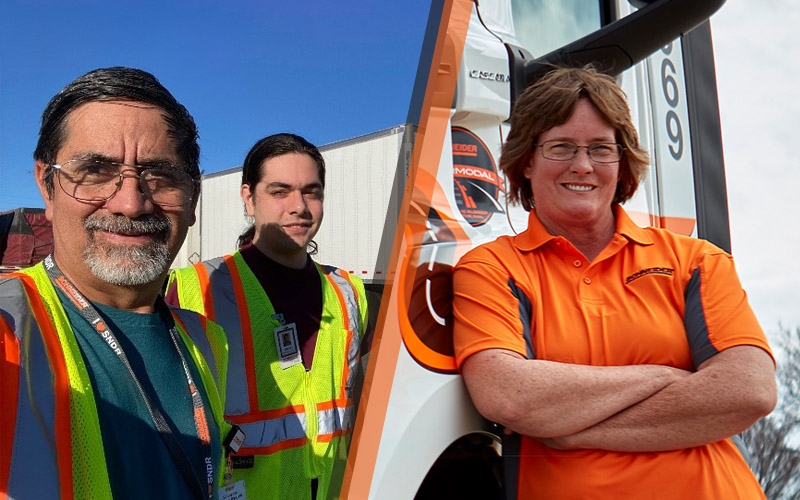 Estimated reading time: 4 minutes
Searching for a truck driving job can feel intimidating. You may feel overwhelmed by all the options available to you - from the different freight you could haul to the different home time configurations available.
One way to narrow down your options is to decide if you want to become a team truck driver or a solo truck driver. The best way to figure out if you would prefer team vs. solo truck driving is to ask yourself the following questions:
Top 4 questions to ask yourself when comparing team and solo driving
1. Are you looking for independence or companionship on the road?
Before making the decision to become a solo or team driver, you'll want to consider your social preferences and needs. Ask yourself if you would like to have a travel companion or if you would prefer a more solitary lifestyle.
Solo driving:
If you're someone who prefers to spend time alone or are someone who doesn't like to share a space with others, solo truck driving may be for you. As a solo driver, you won't have to share your cab with anyone, plus you'll have control over when you stop, where you eat and when you sleep
Team driving:
If the thought of driving alone doesn't appeal to you, team driving is the way to go. Drivers can team up with their spouse, relative, military buddy, friend, classmate, or they take advantage of Schneider's Team Matching Program to find a driving partner.
Plus, if you're looking for a little extra companionship, Schneider also has a Team Pet Policy that allows team drivers to bring a cat or dog on the road with them.
2. How much do you want to earn?
There is a common assumption that solo drivers don't make as much money as team drivers, however this isn't always the case.
Solo driving:
Do team drivers make more money than solo drivers? The answer really depends on what type of freight the driver hauls, if they are on a dedicated account, how much experience they have and what sort of accessorial pay they earn.
Some solo opportunities – like intermodal driving jobs – sometimes pay more than team driving jobs because of the load pay drivers earn due to the specialized nature of the work.
In fact, top solo Intermodal drivers at Schneider are currently averaging $100,000 per year or an average of $1,490 - $1,820 per week.
Team driving:
Although there are some cases when solo drivers earn more than team drivers, team drivers generally earn more than solo drivers because of the miles they run and the high-demand nature of the freight they haul.
Top Dedicated team drivers at Schneider are currently averaging $107,000 (per driver) per year or an average of $1,630 - $1,990 (per driver) each week.
It's important to remember two members of the same driving team will most-likely not receive the same amount of pay because salaries are not split 50/50 between drivers. Rather, what each driver earns is based on their personal experience level.
So, if you have five years of driving experience and your partner is fresh out of driving school, you can expect to earn a salary that reflects your experience while your partner earns the salary of a new driver.
3. How long do you want to stay out on the road?
Home time can vary drastically between solo and team driving jobs. It's important to decide how often you want to get home as a truck driver before applying for a team or solo job.
Solo driving:
If you're looking for options when it comes to home time, solo driving has it all.
As a solo driver, you'll be able to pick from the widest variety of home times, through selecting a local account, regional option or over-the-road job to get home either daily, multiple times each week, weekly, monthly or sometime in between.
Team driving:
If having a wide variety of home time options to pick from isn't a priority for you, then team driving could be an option for you to consider.
Team drivers are always over-the-road drivers because having two people in the truck allows them to drive further distances quicker. Team drivers often deliver freight from one side of the country to the other, so they get home less often than solo drivers do.
At Schneider, team drivers can expect to drive around 5,000 miles each week while getting home either weekly, every other week or monthly depending on their account.
4. What kind of freight do you want to haul?
Freight preferences can make a big difference when choosing between solo and team truck driving. Consider the following when making your decision.
Solo driving:
Solo drivers have a lot more options to choose from when it comes to the type of freight they haul. These include van truckload and dedicated freight, as well as more specialized options like intermodal, tanker and even some flatbed options.
Solo drivers handle local and regional accounts and haul hands-on freight because these types of work usually involve more stop-offs and multiple deliveries per day
Team driving:
Team drivers handle mainly dry van and reefer freight. This is because the freight they haul is primarily no-touch, drop-and-hook freight, allowing them to keep freight moving efficiently.
So, if you're looking for a driving job with a more hands-on freight type with multiple stop-offs, like tanker, team driving may not be for you.
Looking for more new driver resources?
Whether you want to learn more about obtaining your CDL or read about different driving styles, we have the content for you. Learn all about the topics that matter the most to you by checking out more new driver blogs.
About the author

Schneider Guy loves the "Big Orange." He's passionate about the trucking industry and connecting people to rewarding careers within it. He's been the eyes and ears of our company since our founding in 1935, and he's excited to interact with prospective and current Schneider associates through "A Slice of Orange."
More posts by this author