7 rookie truck driver mistakes and how to avoid them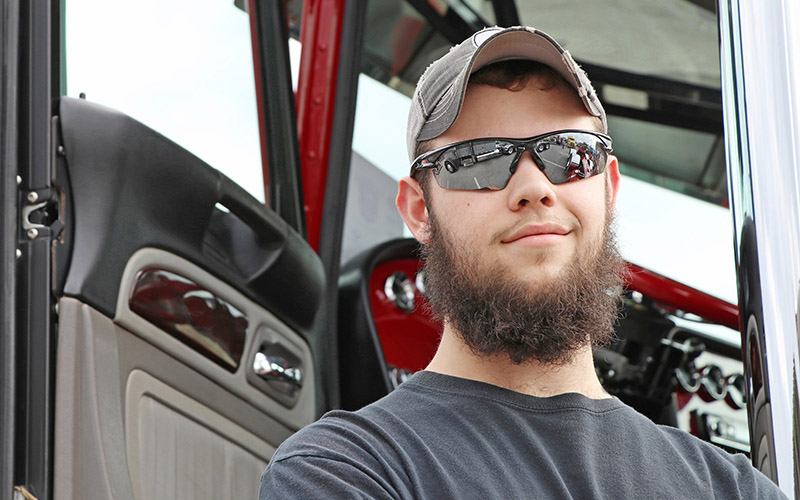 Estimated reading time: 3 minutes
Hitting the road on your own after training can feel intimidating at first, as you're probably going to make a few mistakes at one point or another.
But fear not, we're here to provide some pointers on how to be a better truck driver and help you feel more prepared for life on the road. Continue reading for our list of the top seven rookie truck driver mistakes new drivers make and how to avoid them.
Top 7 rookie truck driver mistakes to avoid
Mistake 1: Not putting safety first.
Cutting corners when it comes to safety can lead to dangerous situations for you and other motorists on the road. Being a better truck driver starts with putting safety first.
Here are a few simple ways to be safer on the road:
Wear your seat belt.
Always do a pre-trip inspection.
Never drive while distracted (put down your phone and eliminate other distractions).
You can implement more safety habits into your routine by reading our essential safety and defensive driving tips blog.
Mistake 2: Thinking you know it all.
It's important to have confidence in yourself and your skills as a truck driver. However, that doesn't mean you should act as though you know everything when you're new to trucking.
There will be plenty of opportunities to learn new things as you navigate the first few months of your new career, so don't turn down guidance or advice from a trainer, instructor or leader simply because you think you know more than someone else.
Instead, try to be open to learning new skills and growing as a professional driver.
Mistake 3: Neglecting your health.
Spending extended periods of time out on the road can sometimes cause truck drivers to lose track of self-care habits like eating healthy foods, working out and getting enough sleep.
However, these habits are essential to living your best and healthiest life.
Set yourself up for success as a professional driver by doing the following:
Discover even more ways to become a healthier truck driver, including getting more sleep and practicing portion control, by reading our truck driver health tips blog.
Mistake 4: Not building relationships with others.
One of the many perks of truck driving is that you often experience more independence than you do in a normal nine-to-five job.
Although you may spend more time on your own as a professional driver, you should remember that networking and building relationships is still important.
In addition to communicating regularly with friends and family, we encourage you to build connections with your leaders, training team, other drivers and even your customers.
You can maintain these relationships with others by:
Texting.
Setting up phone calls.
Organizing video chats.
Meeting up when you're in the area.
Sharing pictures of things you see on the road.
Doing this will ensure you have someone to contact should you ever have a question or need advice.
Mistake 5: Being afraid to ask questions.
You should feel comfortable asking questions, no matter if you've been driving for years or are brand new to the industry. Asking questions as a new driver can help you avoid mistakes and learn how to do your job safely and efficiently.
There are a variety of resources you can rely on if you have questions, including:
Leaders.
Trainers.
Instructors.
Fellow drivers.
Diesel technicians.
Remember, asking questions or asking for help isn't a sign of weakness. It simply shows you want to learn and improve your understanding of things.
Mistake 6: Not staying organized.
You may not realize it, but organization is a key skill every truck driver should have. Whether it's keeping your truck neat and tidy, or trip planning before hitting the road, staying organized helps make life easier and prepares you for obstacles you may encounter while driving.
Mistake 7: Not taking your time.
One of the most important things to know about truck driving is that rushing often leads to mistakes.
Keep in mind that as a truck driver, you're hauling thousands of pounds of freight, and not taking your time while driving can cause you to make potentially dangerous errors.
Never let other drivers pressure you into rushing or doing something you know is unsafe. Rather, take your time when completing maneuvers and spend time practicing your driving skills.
Looking for more new driver tips?
Whether you want to learn about the different types of driving jobs or are looking for study tips for your upcoming Commercial Learner's Permit test, we have the answers you're looking for. Learn more about the trucking industry by checking out our blogs for new drivers.
About the author

Schneider Guy loves the "Big Orange." He's passionate about the trucking industry and connecting people to rewarding careers within it. He's been the eyes and ears of our company since our founding in 1935, and he's excited to interact with prospective and current Schneider associates through "A Slice of Orange."