Top ELD mandate and E-Log questions answered by Schneider experts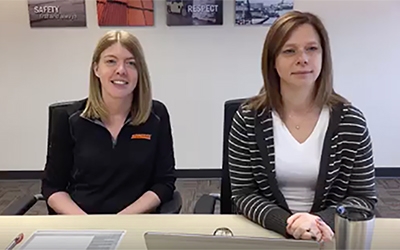 The Federal Motor Carrier Safety Administration's (FMCSA) Electronic Logging Device (ELD) Rule continues to be a hot topic of discussion within the trucking industry, but confusion still abounds as we currently wade through a period of "soft enforcement."
Before the rule went into effect on December 18, 2017, we explained what drivers need to know about the ELD mandate and Electronic Logging Devices. Now that the rule is in effect, we want to help you understand what it means now and in the future.
We recently held a Facebook Live event with Schneider Director of Regulatory Services Andrea Sequin, and she addressed the biggest issues about the ELD mandate and answered driver questions.
Watch the full 30-minute video and/or read some of the transcript highlights below with answers provided by Andrea. The times are listed by each question, so you can jump directly to the topic for more detailed answers.
1:35 - What are the key dates and timeframes for the rule and enforcement?
ELD Mandate Effective as of Dec. 18, 2017
"The ELD Mandate took effect Dec. 18, 2017, so the rule is in effect today. As of today, everyone who is participating in interstate commerce should be using an electronic logging device if they're required to complete logs. …
Soft ELD Enforcement Between December and April
"April 1, 2018, is when the Commercial Vehicle Safety Alliance (CVSA), which is the group of enforcement officers who inspect commercial motor vehicles, they've said between December and April, they will do soft enforcement, which means if they encounter a truck that should have an electronic log but does not, they will still issue a violation, but they will not put that driver out of service for 10 hours. …
Effective April 1, ELD Enforcement on Violations, Out-Of-Service and Impact on CSA Score
"Come April 1st, if you are stopped and you don't have the electronic logs, you will get the violation, you will be placed out of service for 10 hours and your violation will impact your CSA score."
"The penalties increase on April 1st. … If you don't have a device today, you should get one."
Also during this segment: Examples of drivers not required to do electronic logs, more of what could happen during a roadside inspection
5:00 – How do you know what a compliant device is?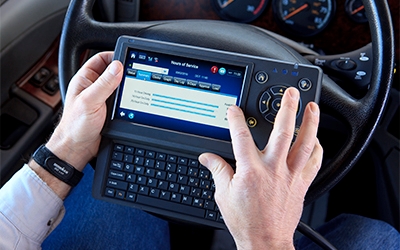 FMCSA's Website Has an ELD Approved list
"There are a few things a driver can do. The easiest is if you know the make and model of your device, the FMCSA actually has a website that lists all of the allowable electronic logging devices, and a checklist on choosing an ELD. Manufacturers have to register their product with the government and they have to self-certify that that device does all the things it's supposed to do. …"
Also during this segment: What a certified device is required to do
7:50 – What about phone apps? Are there apps that are able to assist with e-logs as well?
Be Cautious with Using Phone Apps Instead
"The big thing to watch out for with apps is there are apps that will do electronic logs, which is simply moving from paper to electronic and you the user are saying you're driving or not driving. The difference with an ELD app is the part that's talking to the engine, the piece that's integrated. The driver does not get to say, 'I was driving.' The device that's plugged into the truck tells the app you were driving."
8:40 – How prepared is Schneider and what have you learned being a part of this change?
Schneider Has Had Electronic Logging Since 2010 and Offers 24/7 Support
"Schneider has been doing electronic logging since 2009, so we have almost a decade of experience. Our dispatch systems have been integrated to take that information and make our dispatch more efficient — which means more miles for the driver. We've really built a great support system around electronic logs.
"For example, we have 24/7 support for our logging application. If at any point if a driver's device breaks, or they have a question or they need assistance with editing, we have someone here who is an expert available year-round, 24 hours a day to get assistance — whether that's an immediate need because they're roadside with an officer and they need help, or they just need assistance with relearning something or being reminded how to do an edit, we have folks available to help them do that."
Also during this segment: What happens if an ELD breaks while driving and how to be compliant in that scenario
10:30 – Will the Qualcomm [device Schneider uses] go away, and if so, what is replacing it?
Over-the-Air Update and Training to Come
"For Schneider, we're running an MCP200 device that is currently what they call an AOBRD, or an Automatic Onboard Recording Device. It is a grandfathered device under the rule, so it's almost an ELD — there are a few things that need to change. … We will do an over-the-air upgrade to move from AOBRD to ELD without having to touch the trucks. We are currently in the planning stages for when that will occur — likely in the next few months. The fleet will get communication about when that's happening. They will also get training about what those changes are that they'll see, and we look forward to having that happen. The support that exists for that product will remain the same."
11:35 – What has the drivers' performance been like under electronic logging since Schneider implemented and refined it?
Schneider National Carriers' Out-Of-Service Rate Under 1 Percent
"What we've seen is under electronic logging, we really do not see hours of service violations all that often. It really is infrequent that we have a driver stopped and found to have an hours of service violation.
"As a driver, you can see this about any motor carrier. It's public information [csa.fmcsa.dot.gov]. If you look at Schneider National Carriers' out-of-service rate [chart is from Schneider's info on the website], which is how often when we are stopped for a roadside inspection does the driver end up being placed out of service because of something related to them, whether it's their license or logs — we have that occur less than 1 percent of the time, actually 0.6 percent. The national average is 5.5 percent, so we well exceed the national average."
Out of Service Rates
Type
OOS %
National Avg %
Vehicle
12.2
20.7
Driver
0.6
5.5
Hazmat
2.7
4.5
"We just frankly do not put the fleet in a position where they wind up out of service."
Also during this segment: More ways we help put drivers in a safe position during roadside inspections, info on our e-log training, CDL monitoring and other proactive regulatory/compliance initiatives to help drivers — including scale bypass
17:30 – I understand from a compliance perspective in the area of sleep apnea, we have a great program. Can you talk a little bit about that?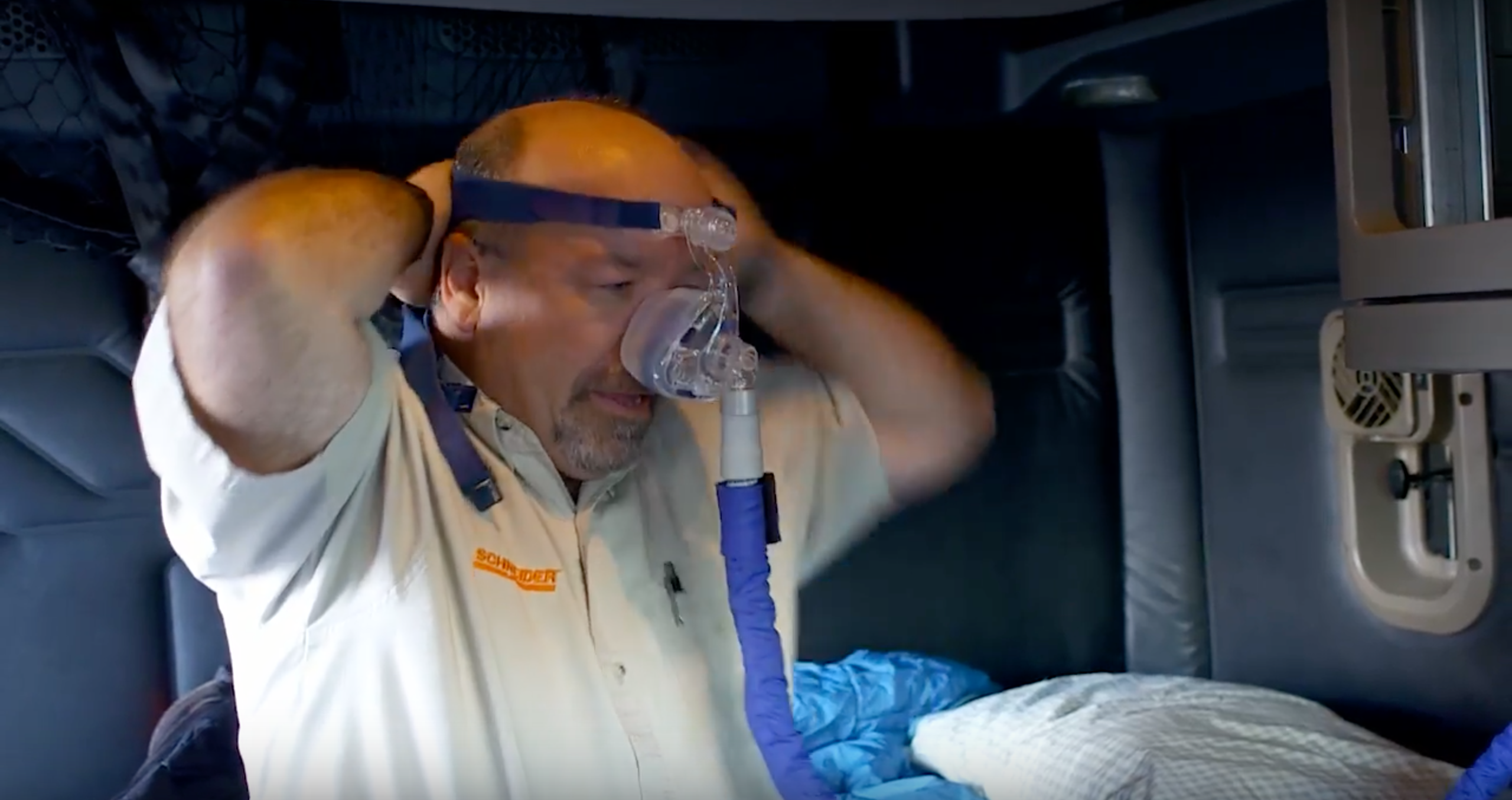 "This is not something we're federally required to do, but we've seen great value from this program. Back in 2006, we identified the need for more effort in the area of sleep apnea and that sleep apnea was a condition that affected a number of commercial motor vehicle drivers. We began a small pilot, and that program has grown over the last 10 years. …"
Also during this segment: How Schneider's sleep apnea program works
19:30 – Do we have tablets within the fleet, how is that integration going and is that something we're going to move forward with?
Tablets Being Used in The West Coast Will Also Receive Over-The-Air Update
"We talked about the MCP200, the Omnitracs device. We do have a segment of the fleet on our west coast that is running the tablet. It has a separate Hours of Service product — that Hours of Service product as well is currently an AOBRD. We are currently working with that provider as well to do an over-the-air update to full ELD software. Those tablets will remain. We will upgrade that Hours of Service product as well, and ultimately across the fleet we will run ELD software."
Also during this segment: Discussing the manufacturer backlog in fulfilling ELD orders
23:35 – I keep reading these articles about this mandate and people saying it's going to get delayed and there will be more exceptions. What are your thoughts on that?
ELD Mandate is Set to Turn Into Full Enforcement on April 1
"It's true there have been a number of exemptions requested. There have been a few exemptions granted. For example, if you're driving a rental truck that you rented for less than 30 days, the government has granted an exemption for that. There are some small segments of the industry that have been granted exemptions as well. There are a number of exemptions that are still out for review. There's a very large one in comment period. But right now, those have not been approved. …
"What I can tell you is the rule took effect in December. Congress mandated it years before that, that's where it came from. Right now, we are in soft enforcement, but we are set to turn into full enforcement on April 1st.
"All I can tell you is it's a rule and ensuring that you're in a position that you're compliant is the best thing for you."
Remaining Topics Discussed During the ELD Chat:
How to find the compliance of your carrier
How to learn more about Schneider and apply
Schneider's vehicle out-of-service rates
Driver advisors, hazmat hotline and other resources with a big company
Types of driving opportunities available
Quick link: Watch full Facebook Live ELD chat.
Want to learn more about our technology?
As a Schneider driver, you'll be equipped with technology that makes your ride smoother and safer. Learn more about what our trucks have to offer.
About the author

Schneider Guy loves the "Big Orange." He's passionate about the trucking industry and connecting people to rewarding careers within it. He's been the eyes and ears of our company since our founding in 1935, and he's excited to interact with prospective and current Schneider associates through "A Slice of Orange."