What drivers need to know about the ELD mandate, Electronic Logging Devices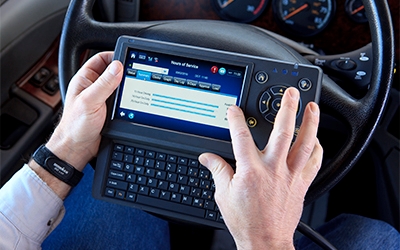 "Everything is about managing time. You can't just stop for fuel wherever you want. For my 30-minute break, I take 30 minutes exactly. I know when I have 2 minutes left, then 1 minute left and then I'm ready to go. It's easy to waste minutes on the 14-hour on-duty time at a truck stop. I plan everything because I don't like to be under pressure. A lot of people think they don't have time, but you have time for everything — my wife, my girls — if you just calculate everything."
Check out all of the technology drivers use.
We know how important it is for drivers to use technology and equipment that positively impacts their driving experience. Explore what we have to offer.
About the author
Andrea is Director of Regulatory Services at Schneider. She has been with the organization since 2004, primarily in safety and regulatory areas. She previously worked in Operations for Schneider's Tanker division. She holds an MBA from University of Wisconsin-Oshkosh and a bachelor's degree from the University of Wisconsin-Green Bay. She is an active member of the Transportation Research Board – Truck and Bus Safety subcommittee. She is also a current member of the American Transportation Research Institute's (ATRI) Research Advisory Committee. She lives in Green Bay, Wis., with her family.