Pros and cons of local truck driving – Top 6 things to consider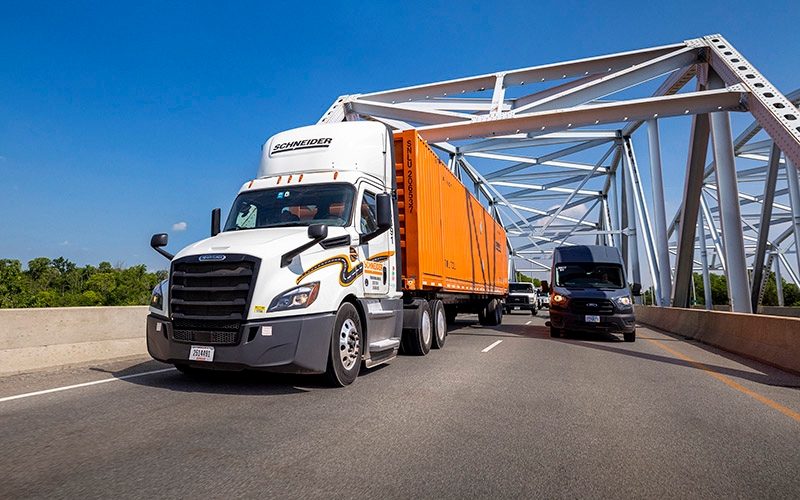 Estimated reading time: 4 minutes
As with any career, it's important to know what you're looking for in a job before you make a career change. The same can be said about determining your ideal driving style.
If you are a driver that values getting home every single day and are looking for consistent pay and loads, local truck driving could be a great job for you.
But don't just take our word for it, use this helpful list of pros and cons of local truck driving to determine whether a local driving job would be the right fit for you.
Pros and cons of local truck driving
1. Home time.
Pro:
Often, the biggest selling point of local truck driving is that it gets drivers home every day.
Local driving jobs are perfect for people who have young families, pets or other obligations at home, or for those who simply prefer to sleep in their own bed.
Plus, getting more home time can also positively impact your work-life balance.
Con:
There are many truck drivers who prefer to spend most of their time – both on and off the clock – out on the road. However, local driving jobs don't necessarily provide this type of freedom.
Many people become truck drivers to get out of their monotonous daily work schedule and to experience more adventure.
Local truck driving is about as close to a nine-to-five job as you'll get in the driving industry, so if you are interested in the freedom and independence associated with staying out longer, you'll probably want to consider becoming an over-the-road driver or a regional driver, instead of a local one.
2. Driving routes.
Pro:
Local drivers work in the areas where they live, which means they drive on routes they likely already know and drive on a frequent basis.
This familiarity can make life easier for local drivers – it allows them to focus more on the freight they're hauling and less on figuring out how to get to their destination.
Con:
Driving on the same roads every day can get a bit boring. Not only are you not seeing new things, but you're also may not feel as challenged driving on the same routes.
Another thing to consider is whether you like driving in cities or on busy roads, as you are more likely to find local driving opportunities in busy areas. This usually means that local truck drivers spend more time driving in and around busy locations like cities and ports.
For example, local intermodal truck drivers spend much of their day driving in and out of rail yards in large cities.
But don't rule out local driving just because you dislike driving on busy roads or through cities! Companies will usually list the locations in which you'll be expected to drive or make deliveries within the job description.
3. Frequent stops.
Pro:
Covering a smaller area usually means that local drivers deliver multiple loads each day or week. If you are someone who doesn't like the idea of spending weeks out on the road or aren't interested in the long-haul lifestyle, local driving may be an ideal job for you.
Unlike over-the-road jobs that may deliver a load every few days, local truck drivers will often deliver multiple loads each day, sometimes stopping at multiple facilities to empty one trailer.
Additionally, some local driving jobs keep drivers physically active by allowing them to get out of the cab more to load or unload their freight.
Con:
If you're someone who prefers single stop-off or longer-distance loads, local driving may not be the right fit for you.
Loading and unloading freight isn't everyone's idea of a perfect job, and that's totally fine.
However, not every local driving account will require you to unload your own freight, so be sure to explore all local driving jobs available in your area to see what your different options are.
4. Work schedule.
Pro:
Getting home daily ensures that local truck drivers follow a more consistent schedule with a predictable weekly routine. However, this may lead you to wonder how long driving shifts are or how many hours can a local truck driver drive?
Just like any other professional truck driver, local drivers can drive up to 11 hours each day. What can make local driving jobs different from other driving jobs, though, are the predictable schedules they provide.
For example, a local driver could work a Monday-Friday schedule, while an over-the-road driver may not have as predictable of a work schedule.
Con:
Many people become truck drivers to escape the routine of a standard nine-to-five job. Although local driving isn't nearly the same as working in an office, it does tend to offer a more predictable work schedule.
So, if you're looking for a driving job that fluctuates more from week-to-week – in regard to routes, loads and driving distances – consider an over-the-road job.
5. Pay.
Pro:
You'll often hear long haul pays more. This may lead you to wonder "How much do local truck drivers make?"
Although local truck drivers may not drive the same amount of miles that over-the-road drivers cover, they can still earn a great living. In fact, many local driving jobs involve specialized work like loading or unloading freight and delivering loads to rail yards that can lead to assessorial pay.
Top local drivers at Schneider, for example, earn an average of $100,000 per year (roughly $1,160 - $1,420 per week).
Con:
One of the downsides of local truck driving is that all local truck driving jobs are solo driving jobs. This is because team drivers are needed to haul freight for longer distances.
The drawback of this is that local drivers may not have the opportunity to have the same ability to maximize their miles and earning potential as team drivers stay out on the road longer and rack up miles.
That being said, Schneider's top Local truck drivers still earn a sizeable wage that rewards their hard work. You can learn more about what goes into driver pay by checking out our truck driver pay breakdown.
6. Customer interaction.
Pro:
Because local drivers often make multiple stops per day or week and sometimes load/unload freight, they get the chance to interact with customers more than over-the-road drivers often do.
If you're a people-person who enjoys interacting with others, local driving may be for you.
Con:
Not everyone is comfortable with customer interaction, and that's fine. Some people prefer being able to drop their load, pick up a new one and be on their way.
Every driving job will have some level of customer interaction, but if you're looking to haul primarily drop-and-hook freight and have fewer stops, an over-the-road or regional opportunity may be a better fit.
Want to learn more about local truck driving?
Discover a driving style with a more predictable schedule and more home time. Find out what local driving options Schneider has and learn all about the perks of driving in your local area.
About the author

Schneider Guy loves the "Big Orange." He's passionate about the trucking industry and connecting people to rewarding careers within it. He's been the eyes and ears of our company since our founding in 1935, and he's excited to interact with prospective and current Schneider associates through "A Slice of Orange."
More posts by this author