What is life like as a driver on Schneider's National Dedicated Fleet?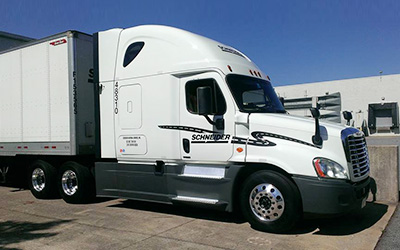 "This job has afforded me opportunities I would not have otherwise had, like traveling. I've been to all 48 contiguous states and five provinces of Canada." –
Stephanie Banic, National Dedicated driver
"I'm a modern-day gypsy. Driving gives me all the bells and whistles and comforts of home, but I get to see the country and meet new people every day. It's truly my calling, and I can't believe I get paid to do this!" –
Timothy Clark, National Dedicated driver
"Schneider is a good company to drive for, with great leadership, training and benefits. Yes, truck driving takes work and dedication from you and your family, but when you make it work, it's a good life." –
Stephanie
"I would be placed on Dedicated accounts from time to time, and I really enjoyed it, but I couldn't get anything permanent. I've been fulltime on the National Dedicated Fleet for the past six years, and it's the best." –
Timothy
Is Dedicated driving for you?
Learn more about the ins and outs of being a National Dedicated driver – from consistency to specialty to belonging, Dedicated truck driving has a lot to offer.
About the author

Schneider Guy loves the "Big Orange." He's passionate about the trucking industry and connecting people to rewarding careers within it. He's been the eyes and ears of our company since our founding in 1935, and he's excited to interact with prospective and current Schneider associates through "A Slice of Orange."