14 major milestones for women at Schneider over the years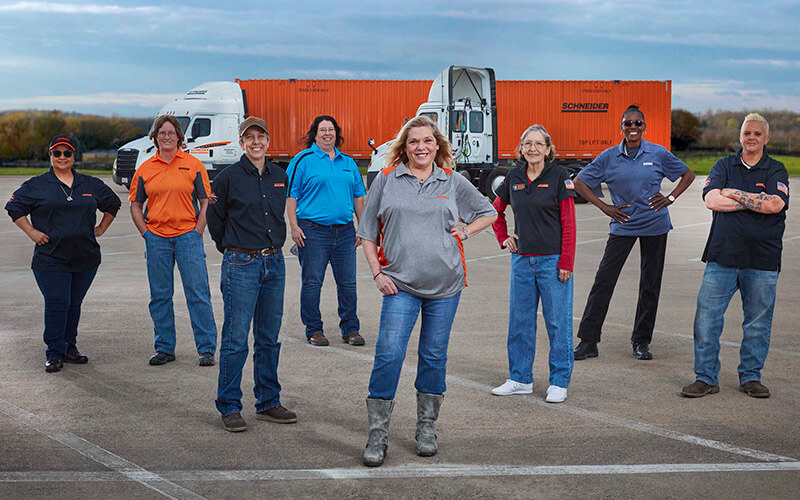 Estimated reading time: 7 minutes
The number of women working in the transportation industry has continued to rise over the years. With nearly 1,000 female company drivers and over 2,000 female office, shop and warehouse associates, Schneider is a shining example of that positive trend.
Over time, Schneider has remained firm in our commitment to breaking down the barriers faced by women in the transportation industry and celebrate the accomplishments of our female drivers and associates.
In honor of International Women's Day, we are looking back at some of the top milestones for women at Schneider over the years.
2007
1. Schneider Women's Network is established.
The Schneider Women's Network was established with the mission to inspire women in the organization to influence, develop and enrich the careers of other female associates. At the time of its founding, it was one of the first women's networks within the transportation industry.
"I feel proud that we can say we have a history of focusing on a respectful, inclusive environment," co-founder Karin Green said. "We are evolving our diversity, equality and inclusion initiatives and efforts, but it's something the organization has valued for a long time."
2. Schneider becomes a charter member of Women in Trucking.
When the Women in Trucking Association was founded, Schneider was among the very first companies to join the organization as a corporate member. Women in Trucking is a non-profit organization that encourages the employment of women in the industry, celebrates their success and minimizes obstacles.
Schneider has since worked closely with Women in Trucking on initiatives aimed at attracting and retaining women as professional drivers.
3. Glenda Campbell earns first-ever Woman Trucker Award.
When Women in Trucking, the Orlando Truckers' Conference and DOTAuthority.com joined forces to create the first-ever Woman Trucker Award (now the Driver of the Year Award), they chose Schneider driver Glenda Campbell to receive the honor. The award recognizes female truck drivers who demonstrate dedication to the profession.
Glenda was selected for her safe driving record and her compelling career story. She decided to leave a career in computer electronics to become a Schneider driver with her daughter in 2004. She earned her commercial driver's license (CDL) through Schneider's paid training program at the age of 50.
"I get to see the country, but I've been able to prove to myself that I can succeed in a largely male-dominated field," Glenda said. "Through this award, I hope I'm able to influence other women to pursue truck driving and enjoy its many rewards."
Today, Glenda's story continues to serve as a powerful example of how the industry offers empowering careers for mature workers and women alike.
2018
4. Schneider introduces its first Featured Female Truck Drivers.
Before joining forces as team drivers, Featured Female Drivers Lisa and Patrice served together in the transportation division of the U.S. Army. Upon their exit from active duty, the "battle buddies" put their military experience and chemistry to good use as Schneider over-the-road drivers.
It was that working chemistry and the story behind it that led to Lisa and Patrice being named Schneider's very first Featured Female Truck Drivers.
2019
5. Schneider Intermodal Women's Outreach Program is launched.
Started by Schneider driver Christine Bosgraaf, the Schneider Intermodal Women's Outreach Program provides female drivers with the resources they need to go out into their communities and encourage more women to start a truck driving career.
"The public doesn't realize women can do this job," Christine said. "We want to spread the word that it is an option for women who don't want to sit in an office – to let them know women are already out here doing a good job."
6. Nan Cunningham becomes Schneider's longest-tenured female driver.
A Schneider driver since 1989, Nan Cunningham was officially named Schneider's longest-tenured female driver in 2019. Nan is an is an intermodal driver with over 3 million miles safe miles driven.
"When I first started, I was not the norm," Nan said. "Less than 5% of drivers were females, and a lot were running teams with their husbands. I was the novelty. People would line up along the docks to watch me back in to see how I was doing. It was a little nerve-wracking."
Now over 32 years into her Schneider career, every day that Nan hops behind the wheel of her company truck marks another record-setting day for our female company drivers.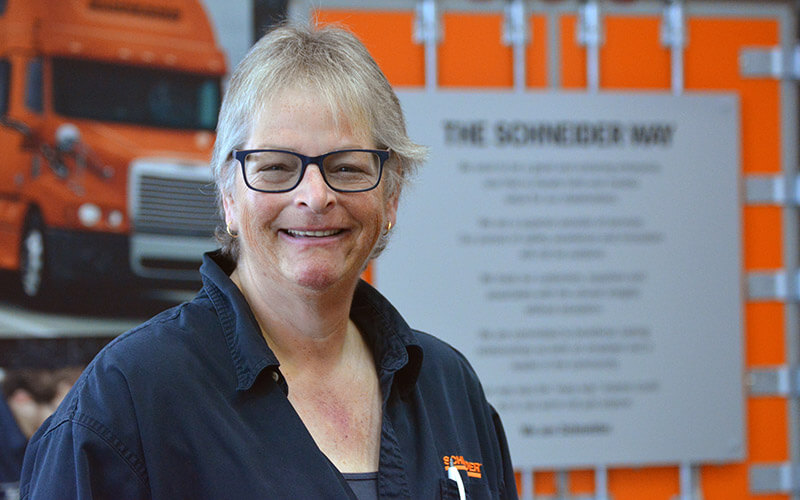 7. Schneider introduces 2019 Featured Female Truck Drivers from Haslet Intermodal fleet.
Schneider's 2019 Featured Female Truck Drivers took us down to the Haslet, Texas operating center, where we met with seven ambitious intermodal drivers: Pixie, Genevieve, Christine, Elizabeth, Patricia, Robbin and Jennifer.
This group of women was selected for the role because combined they totaled 30 years of experience, had driven countless miles and made up about 10% of the total Haslet Intermodal fleet.
8. Schneider earns its first Top Company for Women to Work for in Transportation Award.
The first of more to come in 2020 and 2021, Schneider earned the Top Company for Women to Work for in Transportation award from Women in Trucking in 2019. The award was created to recognize transportation companies that take extra steps to recruit female truck drivers and create a supportive work environment for women in the industry.
Over 150 companies were nominated for the award in 2019. Companies who make the final cut are honored for their efforts in providing:
Competitive compensation and benefits (i.e., paid maternity leave).
Career development and advancement opportunities.
A corporate culture that fosters gender diversity.
2020
9. Erin Van Zeeland earns first-ever Women in Supply Chain Award.
Erin Van Zeeland, Schneider's senior vice president and general manager of Logistics Services, was named a recipient of Supply & Demand Chain Executive's first-ever Women in Supply Chain Award in 2020.
The award honors female supply chain leaders and executives whose accomplishments, mentorship and examples set a foundation for women in all levels of a company's supply chain network.
Erin was presented the award based on her contributions as a driving force behind numerous technological advancements at Schneider. Her vision and deep understanding of data science helped spearhead many projects, including the launch of Schneider FreightPower®.
10. Kellylynn McLaughlin becomes first-ever Women in Trucking Driver Ambassador
Schneider training engineer Kellylynn McLaughlin was named the first-ever Women in Trucking Driver Ambassador. The role is part of Women in Trucking's diversity recruitment program to encourage people of all genders, particularly females, to consider a career in the trucking industry.
In addition to hauling loads around the country, one of McLaughlin's main duties as the Woman in Trucking Ambassador is to bring more women into the industry by visiting trade shows, driving schools and industry events.
"This role tugs at my heart because I've always tried to help others see how fulfilling work in this industry can be," Kellylynn said.
11. Schneider is named a Forbes' Best Employer for Women
Schneider landed among Forbes' Best Employer for Women award recipients in 2020. This award recognizes companies that demonstrate a commitment to providing a positive environment for female associates.
Forbes chose Schneider for this award based on the company's efforts to ensure women are represented at executive and board levels, improve gender equity and prevent workplace discrimination and misconduct.
"Our objective continues to be to promote diversity, inclusion and equality at all levels in the workplace and cultivate an environment where associates are included, respected and have the opportunity to grow and succeed," said Angela Fish, senior vice president of Human Resources at Schneider. "It's very rewarding to see the effects of our efforts reflected through the results of this survey."
2021
12. Carmen Cucinello is named one of Women in Trucking's Top Women in Transportation to Watch.
Shortly after being promoted to vice president of Bulk Operations, Carmen Cucinello was named one of Women in Trucking's Top Women in Transportation to Watch for 2021.
Carmen was selected for the award based on her significant career accomplishments in 2020, as well as her efforts to promote gender diversity. She has received a number of Schneider awards for her leadership and industry experience prior to being recognized by Women in Trucking.
Today, Carmen continues to serve Schneider associates both in her role and as a mentor.
13. KayLeigh McCall is named Schneider's 2021 Featured Female Truck Driver.
Dedicated driver and training engineer, KayLeigh McCall was selected as Schneider's 2021 Featured Female Truck Driver due to the tenacity, resiliency and passion she brings to her work.
With a husband, son and three daughters at home, KayLeigh is a shining example of a woman truck driver who does it all. While being both a driver and a trainer means a different schedule every week, KayLeigh still gets home every weekend and finds a way to make time for her family every day while out on the road.
"My phone calls home every night – that's my family's thing," KayLeigh said. "Throughout my day, driving, I make note of interesting things or places that I saw along the way. Then, when I talk to my kids in the evening time, we sit there and have a conversation about what I'd seen."
2022
14. Schneider debuts new WITney truck.
Schneider kicked off 2022 by unveiling a new WITney-wrapped truck meant to encourage women to consider a career in trucking.
Adopted from Woman in Trucking's Driver Ambassador Trailer, the WITney design depicts a female truck driver wearing a cape behind the wheel. The truck wrap signals women to "take the wheel" by becoming a truck driver.
The truck was given to Kellylynn to drive on her tour across the U.S. with the Driver Ambassador Trailer, which contains a driver simulator, interactive kiosks and other educational resources for women.
"When I first started seven years ago, about 3% of CDLs were females. Now I see more and more women all the time," Kellylynn said. "All different ages which is great, and we're up to about 10%. I would really like to see it grow over the next few years so that maybe 25% or even 40% of us are females."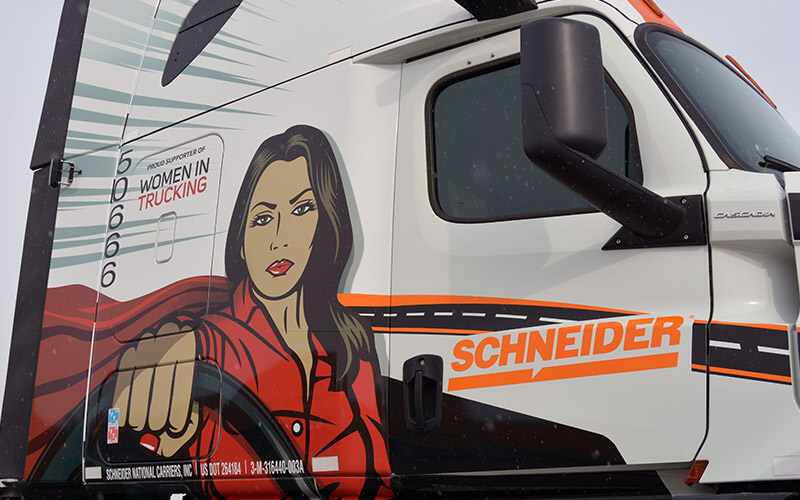 See how Schneider fosters an inclusive workplace
Schneider remains committed to empowering associates by embracing diversity of thought, experience and background. Learn how our core value of "Respect for All" plays into our company culture and initiatives.
About the author

Schneider Guy loves the "Big Orange." He's passionate about the trucking industry and connecting people to rewarding careers within it. He's been the eyes and ears of our company since our founding in 1935, and he's excited to interact with prospective and current Schneider associates through "A Slice of Orange."